Medium-term Management Initiative "Cs+ for Tomorrow 2021"
Issues for sustainable society are being discussed around the world. Asahi Kasei expresses its stance in this medium-term management initiative as "Care for People, Care for Earth" as we continuously contribute to the sustainable development of mankind and the earth. While leveraging our strengths of "diversity" and "capability to change," Asahi Kasei will explicitly focus on contributing to a sustainable society while achieving sustainable growth of corporate value.
Progression of management initiatives
Sustainability for Asahi Kasei
Asahi Kasei is focusing on two mutually reinforcing aspects of sustainability, "contributing to sustainable society" and "sustainable growth of corporate value."
Asahi Kasei's vision and goals for portfolio transformation
Ever since our founder Shitagau Noguchi propounded a vision of improving people's standard of living, Asahi Kasei has dynamically transformed its business portfolio to meet the needs of society in accordance with the times.
Leveraging our strengths of "diversity" and "capability to change," we are expanding businesses that contribute to a sustainable society.
Cs+ for Tomorrow 2021 Concept
We identified 5 priority fields for provision of value to provide solutions to the world's challenges. While enhancing sustainable growth of corporate value, we will contribute to sustainable society by focusing on these priority fields to develop a portfolio of high-profitability and high value-added businesses.
Cs+ for Tomorrow 2021 Financial objectives
While realizing sustainable profit growth exceeding global GDP growth, we are targeting operating income of ¥240 billion and operating margin of 10% in fiscal 2021. Our longer term outlook is ¥300 billion or more in operating income and 10% or more in operating margin in fiscal 2025. We plan to invest some ¥800 billion in total for the three-year period to maintain a proactive stance for sustainable profit growth.
Cs+ for Tomorrow 2021 Growth strategy
Cs+ for Tomorrow 2021 Action plan
Business portfolio transformation

Allocation of management resources based on the four perspectives of High profitability, High market growth, Priority fields, and Sustainability.

Expanding and heightening businesses

Execution of growth strategy by enhancing global operations, accelerating the development of new technologies and creation of new businesses, and advancing digital transformation. Creating new value by leveraging various core technologies, group-wide marketing functions, and internal and external connections.

Further strengthening the platform including the aspects of human resources, environmental safety, workplace safety, quality, risk management, and compliance.
Maintaining sound corporate governance to ensure diversity and capability to change.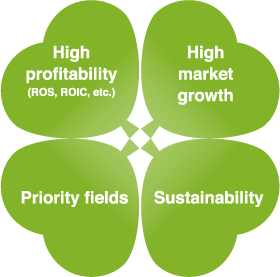 Presentation materials on "Cs+ for Tomorrow 2021"
May 25, 2020
"Cs+ for Tomorrow 2021"
Medium-term management initiative
FY2019–2021
Progress and Outlook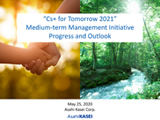 May 29, 2019
"Cs+ for Tomorrow 2021"
Medium-term management initiative
FY2019–2021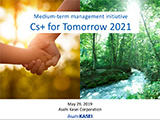 May 29, 2018
"Cs for Tomorrow 2018"
Medium-term management initiative
FY2016–2018
Progress and Outlook