Policy
Measures for process safety in the Asahi Kasei Group are performed in accordance with our Basic Policy for Safe Operation, which states, "We maintain the safety of employees and local communities through stable and safe operation while working to prevent workplace injuries." An ongoing and autonomous program to ensure process safety includes safety assessment and hazard identification in accordance with our Basic Policy, with specific plans implemented on both annual and multi-year cycles.
As set forth in the Asahi Kasei Group RC Principles, we give the utmost consideration to environmental protection, quality assurance, process safety, workplace safety and hygiene, and health maintenance, throughout the product life cycle from R&D to disposal, as preeminent management tasks in all operations. In addition to maintaining legal compliance, we set self-imposed targets for continuous improvement, while performing proactive information disclosure and communication to gain public understanding and trust.
Safety management for high pressure gas
At the Mizushima Works and Kawasaki Works, we have received certification for self-inspection for high-pressure gas safety from Japan's Ministry of Economy, Trade and Industry. Accordingly, we perform our own "certified safety" and "conformity inspections" for equipment as part of the ongoing effort to maintain stable and safe operation. Specifically, we ensure the safety of the applicable facilities with the following roles in accordance with the High Pressure Gas Certified Safety and Conformity Inspections Implementation and Management Regulations.
| | |
| --- | --- |
| High Pressure Gas Safety Controller | Asahi Kasei Corp. President |
| High Pressure Gas Process Safety Division General Manager | Asahi Kasei Corp. Executive for RC (Director) |
| High Pressure Gas Process Safety Management Department General Manager | Asahi Kasei Corp. Corporate ESH General Manager |
We hold the High Pressure Gas Process Safety Measures Promotion Conference, chaired by the General Manager of the High Pressure Gas Process Safety Department, four times a year with the relevant parties from head office and the two Works in an effort to exchange information in a timely manner and develop a PDCA (plan-do-check-act) cycle. In addition, the High Pressure Gas Process Safety Measures Meeting, chaired by the General Manager of the High Pressure Gas Process Safety Division, is held once a year to check on the status of process safety at the two works.
Furthermore, at the time of its next recertification review in 2021, the Mizushima Works has decided to apply for the super certification program (designated certified business), which requires an even higher level of high pressure gas process safety management. The project was launched in fiscal 2018 and preparations are advancing. Going forward, the Head Office and the Works will continue working in collaboration to enhance the management of high pressure gas process safety.
Basic Policy for High Pressure Gas Safety
Safety is an important fundamental of management, and all of our business activities depend on safety.
Each one of our employees is responsible for safety, and safety is ensured by all employees together.
We apply a PDCA (plan-do-check-act) cycle to continuously improve the level of safety.
Measures to assess risks, and to eliminate and mitigate them, are persistent and ongoing.
Process safety management
To achieve safe operations, it is essential to perform sound plant maintenance, and to operate facilities in a stable and safe manner. The Asahi Kasei Group avoids operational accidents through risk assessments prior to the construction of new plants, periodic inspections of existing plants performed by auditors specialized in fire and explosion prevention, process reviews from the perspective of preventing abnormal reactions and ensuring interlock functions, and process reviews corresponding to the age of facilities.
Maintaining the activities to transmit process safety and disaster prevention techniques commenced in fiscal 2013, we identify hazards at each plant and specify the risks. When doing this, we examine risks that include abnormal reactions, suspension of services, contamination, and effectiveness of polymerization inhibitors, assuming the worst-case scenario (hazard) for when safety equipment, such as interlocks, fails to function.
Details of initiatives under activities to pass on process safety technology
(1)

Identification of hazard sources

(2)

Passing on through technology communication materials (summaries)

(3)

Analysis of factors leading to high level hazards (equipment damage, fire and explosion) and checking on appropriateness of countermeasures

(4)

Training of operators with ability to apply knowledge to work through troubleshooting drills
In addition, we conduct regular visits and expert third-party verification by Corporate ESH at each plant with extensive discussions aimed at confirming and increasing progress on the content of the reviews.
There were no serious operational accidents* inside or outside Japan in fiscal 2018.
*

Definition of serous operational accident

At least one fatality or serious injury
Direct damage of at least ¥100 million
Major social impact (evacuation advice, human or physical damage outside of the site)
Safety review system for investment plans
We perform process hazard assessment before plant construction to ensure a high level of safety, not only when establishing new plants or expanding plants but also when modifying or dismantling plants. Internal regulations require a pre-investment inspection to verify plant safety when there are plans to invest in a new plant or plant modification, etc. of a certain scale or larger. Inspection and approval prior to trial operation provides an additional confirmation of plant safety before actual operation begins. The inspection system is applied not only in Japan, but also outside of Japan.
Safety assessment is performed as part of the pre-investment inspection. Ranks are assigned based on the degree of hazard, with methods such as HAZOP* utilized in the risk assessment of high risk facilities.
*

Abbreviation of "hazard and operability study," a method of identifying and dealing with potential problems in industrial processes by assuming deviations from design intentions. This highly exhaustive method is widely utilized throughout the process industries.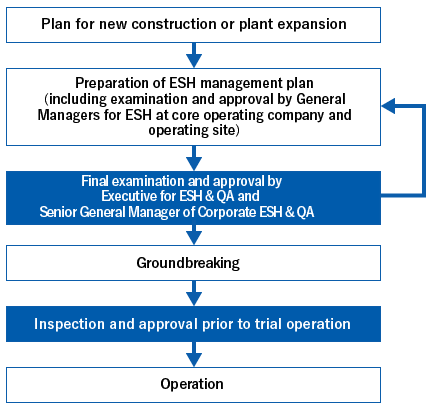 System for inspection prior to capital investment
Measures for safe and stable operation
Given our diverse range of operations that include the Material, Homes, and Health Care business sectors, the Asahi Kasei Group has plants with a wide variety of different characteristics. No single approach to safety would be appropriate for all plants.
We employ a systematic process to tailor the safety effort to each plant's specific requirements, including the use of PDCA cycles. One characteristic of process is the formulation of separate maintenance standards for each individual unit of equipment to ensure the appropriateness of the method and period of maintenance.
In addition, safety information and know-how are shared across the Asahi Kasei Group through a group-wide plant engineering council with 4 specialist panels: Formulation of optimum systematic maintenance programs, establishment of standards and criteria, formulation of training systems for maintenance engineers, and sharing engineering information.
Training for maintenance
We believe that maintenance means creating the condition of equipment necessary to accomplish production objectives. Although we use a PDCA cycle for the planned maintenance system, people are the most fundamental element. It is vital for each individual to gain the essential technology and contribute to the strength of the team.
The Asahi Kasei Group launched a training program in fiscal 2009 to nurture the skills of maintenance personnel. This training program has a clear concept of developing human resources in order to train maintenance technicians to have the ability to carry out planned maintenance, to predict hazards, and to make improvements rather being purely repair personnel who repetitively restore equipment to its original state. Based on this concept, we clarified the training principles for maintenance technicians, formulated a training curriculum for each individual based on these principles, and applied the PDCA cycle.
Training for process safety
At our petrochemical sites in Mizushima and Kawasaki, the Asahi Operation Academy (AOA) serves as the training center to cultivate the skills necessary to operate petrochemical plants. AOA teaches the principles and structures of equipment, heightening the ability to identify the cause of equipment failure and to respond appropriately. Miniature plants and simulators are used at AOA to provide hands-on experience with controls and instrumentation. Operators thereby gain the technical skills and practical understanding of chemical engineering necessary for safe and reliable plant operation, with the ability to respond appropriately in the event of any abnormality.
We carry out safety training exercises in which employees are given simulated experience of workplace dangers including being caught in/between machinery, contacting hazardous liquids, tripping and falling on the same level, suffering a burn, falling from height, etc. In conjunction, we provide education on human behavioral characteristics and accident case studies in order to instill greater sensitivity for safety among employees and obtain strict compliance to safety rules to avoid dangers.
Emergency response
A comprehensive set of internal regulations guides the proper response to any industrial accidents or natural disasters which may occur.
The smooth operation of the emergency response system ensures that personal safety is secured, that effects of the situation are prevented from spreading to surrounding areas, and that damage is held to a minimum, through close communication between the plants, regional management, and the head office. The plants prepare annual plans for periodic training drills, and perform drills in coordination with the head office.
Transportation and Distribution Safety
To prevent accidents in physical distribution, Asahi Kasei works closely with logistics providers contracted for storage, loading, unloading, and transportation to implement safety activities, which include physical distribution safety symposiums, safety liaison conferences, safety inspection, training, and many other safety measures. Furthermore, individual production sites hold joint training drills together with logistics providers to prepare for accidents that may occur and to ensure that damage from such accidents is minimized.
In January 2017, we signed an agreement with the Maritime Disaster Prevention Center and introduced HAZMATers (Hazardous Materials Emergency Response Service) to further strengthen the response capability in the case of an emergency. The engagement of HAZMATers makes a highly specialized emergency response available 24 hours a day, 365 days a year, ensuring swift action to prevent the spread of damage if an accident occurs.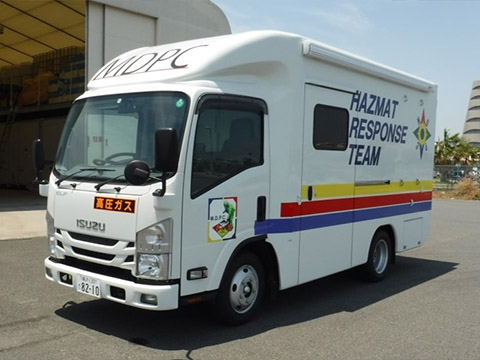 HAZMAT emergency dispatch vehicle (example)