Policy
It is the policy of the Asahi Kasei Group to consider suppliers as important partners and to treat them with sincerity.
Our Mission and Vision for procurement are an expression of our ideals to apply in daily activities as we work to uphold our Procurement Policy and promote procurement practices with an emphasis on CSR.
Accordingly, we consider suppliers from environmental aspects including energy use, climate change, biodiversity, pollution, waste, and resource use, and social aspects including discrimination, equal opportunity, freedom of association, and compliance with local laws concerning working hours and wages.
A relationship of mutual trust with our suppliers is fostered through fair and transparent purchasing practices based on regulatory compliance and respect for the environment and human rights.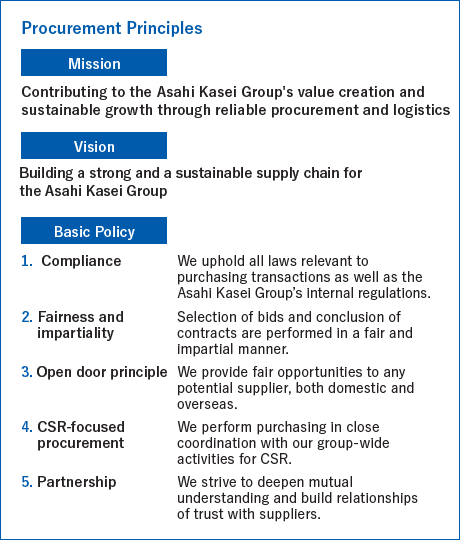 The Asahi Kasei Group Procurement Principles
Formulation of Supplier Guidelines
We conduct business activities in various countries and regions around the world, and are expected to address social issues to achieve a sustainable society, including measures against climate change and respect for human rights, not only within the Asahi Kasei Group but throughout the entire supply chain as well.
For this reason, in 2021 we formulated our Supplier Guidelines as a tool for promoting CSR procurement based on our purchasing policy. In order for our suppliers to understand our policies, we have made our Purchasing Policy and Supplier Guidelines available on the web, and we are preparing to release an English version. We will also monitor compliance through CSR assessments of our suppliers and cooperate to improve our management.
Management framework
Corporate Procurement & Logistics is responsible for the Asahi Kasei Group Procurement Policy, and the department cooperates with the Sustainability Strategy Planning Department to familiarize Group company personnel with the content.
As part of our supply chain management, we use the latest version of the UN Global Compact's CSR Procurement Assessment Sheet and disclose information in accordance with global standards.
Evaluation of CSR at suppliers
The Asahi Kasei Group is working with its suppliers to promote CSR procurement with the aim of constructing a sustainable supply chain. As part of this effort, we ask our major suppliers to complete a CSR Procurement Questionnaire in order to understand the status of CSR initiatives across the entire supply chain. In this way, we aim to improve the level of CSR by cooperating with our suppliers, and to avoid environmental and social risks in the supply chain.
We conduct supplier surveys as part of our CSR procurement from two perspectives, which are evaluation at the commencement of new transactions and ongoing evaluation of suppliers.
Before commencing transactions with a new company, we conduct an evaluation which includes CSR through preliminary screening based on our Purchasing and Procurement Policy.
In addition, we conduct a CSR survey of continuing suppliers so that they engage in business activities with an awareness of CSR, and strive to foster awareness of CSR in transactions.
Question categories
1.

Corporate governance related to CSR

2.

Human rights

3.

Labor

4.

Environment

5.

Fair corporate activities (ethics and compliance)

6.

Product safety and quality assurance

7.

Information security

8.

Supply chain

9.

Harmony with the local community
FY2020 CSR Procurement Questionnaire Results
In fiscal 2020, to gain a quantitative understanding of the status of our suppliers' initiatives and to enhance communication that facilitates joint growth with our customers, we reviewed the survey questions and answer choices, using the CSR Procurement Tools published by the United Nations Global Compact as a reference.
In 2020, we asked 139 of our major suppliers that had taken the survey in the past to complete the new survey, and we also added 50 new suppliers (189 in total). We received responses from 187 suppliers.
Viewing the results by item, the "quality and safety," "labor," and "corporate governance" categories received high scores, while "local communities" received relatively low scores.
We actually visited several of our business partners who received a D rating in the previous survey to (1) explain the content and purpose of the survey and (2) support them in making improvements in accordance with their circumstances, which resulted in an improved rating in the fiscal 2020 survey. We will continue to communicate with them in the future.
For suppliers ranked C and D in this questionnaire, we individually evaluated and analyzed all responses and risks to the supply chain, and are communicating with them as needed to regarding improvements based on our feedback.
Supplier environmental certification
In the questionnaire, we also surveyed the status of environmental management systems by acquiring a third-party certification system such as the international standard ISO 14001. We have currently confirmed that about 50% of our major suppliers (187 companies in total) have systems and mechanisms in place to promote environmental protection.
Training for Employees
To promote CSR procurement, we have been providing ongoing training to employees in procurement-related departments about CSR procurement in cooperation with the Sustainability Promotion Department and the procurement departments at subsidiaries and affiliates. In fiscal 2020, we conducted online training activities not only for the procurement division at our headquarters, but also for each region despite the COVID-19 pandemic.
Communication with stakeholders
Safety seminars are periodically held at our principal production sites to discuss accident prevention and exchange information with suppliers.
We also actively engage in close communication with our suppliers by actually visiting them or having them visit our offices to inform them about sustainability-related trends and promotional activities, as well as to exchange views. We will continue to enhance mutual communication going forward.
The Asahi Kasei Group compliance hotline also accepts reports and inquiries from suppliers.
Response to conflict minerals
It is a global trend that more and more countries are banning the procurement of minerals from inhumane armed groups, particularly in the Democratic Republic of the Congo and neighboring countries. In the US, this is required by the Dodd-Frank Act of 2010.
The Asahi Kasei Group considers conflict minerals to be a serious issue, and our policy is to ensure transparency in our supply chains and to procure minerals responsibly. We do not obtain, procure, or utilize minerals from armed groups, and avoid supporting conflict and inhumane activities.