Policy
It is the policy of the Asahi Kasei Group to consider suppliers as important partners and to treat them with sincerity.
Our Mission and Vision for procurement are an expression of our ideals to apply in daily activities as we work to uphold our Procurement Policy and promote procurement practices with an emphasis on CSR.
Accordingly, we consider suppliers from environmental aspects including energy use, climate change, biodiversity, pollution, waste, and resource use, and social aspects including discrimination, equal opportunity, freedom of association, and compliance with local laws concerning working hours and wages.
A relationship of mutual trust with our suppliers is fostered through fair and transparent purchasing practices based on regulatory compliance and respect for the environment and human rights.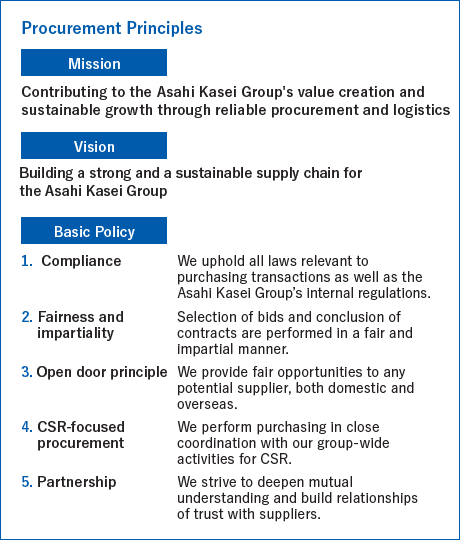 The Asahi Kasei Group Procurement Principles
Management framework
Corporate Procurement & Logistics is responsible for the Asahi Kasei Group Procurement Policy, and the department cooperates with the Sustainability Strategy Planning Department to familiarize Group company personnel with the content.
Evaluation of CSR at suppliers
The Group is working with its suppliers to promote CSR procurement with the aim of constructing a sustainable supply chain. As part of this effort, we ask our major suppliers to complete a CSR Procurement Questionnaire in order to understand the status of CSR initiatives across the entire supply chain. In this way, we aim to improve the level of CSR by cooperating with our suppliers, and to avoid environmental and social risks in the supply chain.
We conduct supplier surveys as part of our CSR procurement from two perspectives, which are evaluation at the commencement of new transactions and ongoing evaluation of suppliers.
Before commencing transactions with a new company, we conduct an evaluation which includes CSR through preliminary screening based on our Purchasing and Procurement Policy.
In addition, we conduct a CSR survey of continuing suppliers so that they engage in business activities with an awareness of CSR, and strive to foster awareness of CSR in transactions.
Question categories
1.

Corporate governance related to CSR

2.

Ethics and compliance

3.

Information security

4.

Intellectual property rights

5.

Human rights and labor

6.

Workplace safety and hygiene

7.

Product safety and quality assurance

8.

Security (export control)

9.

Environmental conservation

10.

Timely and appropriate provision of information and communication to stakeholders

11.

Harmony with the local community

12.

Supply chain
FY2018 – 2019 CSR Procurement Questionnaire Results
• Initiatives in FY2018
We added and expanded the number of existing questions (from 8 categories to 12, from 52 questions to 85), and especially increased social questions in order to monitor the ESG management status of our suppliers. We asked 181 of our major suppliers (including agents and intermediaries) to complete the CSR Procurement Questionnaire, and received responses from all of them.
We provide feedback to our suppliers about their scores and requests for improvement for each question item.
• Initiatives in FY2019
In addition to the 181 companies in fiscal 2018, we requested a further 84 major suppliers to complete the CSR questionnaire, and received responses from 80 of them.
The following is a summary of the questionnaire results of all 261 companies throughout fiscal 2018 and 2019 after the fiscal 2018 revision.
By category, scores for "Security (export control)," "Product safety and quality assurance," and "Human rights and labor" were high, while scores for "Information disclosure and communication to stakeholders" and "Harmony with the local community" were relatively low.
For suppliers ranked C and D in the fiscal 2018 and 2019 questionnaires, we individually evaluated and analyzed all responses and risks to the supply chain, and are communicating with them as needed to regarding improvements based on our feedback.
In fiscal 2019, we held meetings with several suppliers, including actual visits, to gain their understanding for specific improvement activities.
Supplier environmental certification
In the questionnaire, we also surveyed the status of environmental management systems by acquiring a third-party certification system such as the international standard ISO 14001. We have currently confirmed that about 60% of our major suppliers (261 companies in total) have systems and mechanisms in place to promote environmental protection.
Communication with stakeholders
Safety seminars are periodically held at our principal production sites to discuss accident prevention and exchange information with suppliers.
The Asahi Kasei Group compliance hotline also accepts reports and inquiries from suppliers.
Response to conflict minerals
It is a global trend that more and more countries are banning the procurement of minerals from inhumane armed groups, particularly in the Democratic Republic of the Congo and neighboring countries. In the US, this is required by the Dodd-Frank Act of 2010.
Asahi Kasei considers conflict minerals to be a serious issue, and our policy is to ensure transparency in our supply chains and to procure minerals responsibly. We do not obtain, procure, or utilize minerals from armed groups, and avoid supporting conflict and inhumane activities.