Basic policy regarding labor issues
The Asahi Kasei Group believes that all of the human resources working at the Group are the source of new value creation based on their diversity and capability to change.
As a signatory to the UN Global Compact, the Asahi Kasei Group supports and respects the labor-related principles set forth therein. We also endorse the United Nations Guiding Principles on Business and Human Rights and the Children's Rights and Business Principles, and we will use these frameworks to grasp and appropriately address labor issues in our business.
The United Nations Global Compact stipulates the following labor principles.
Businesses should uphold the freedom of association and the effective recognition of the right to collective bargaining
Businesses should uphold the elimination of all forms of forced and compulsory labor
Businesses should uphold the effective abolition of child labor
Businesses should uphold the elimination of discrimination in respect of employment and occupation
Furthermore, the Asahi Kasei Group Code of Conduct clearly states that the Group, as well as its suppliers, does not allow inhumane practices such as child and forced labor, prohibits discrimination for any reason including employment status, respects human rights and diversity, and carries out its business with sincerity and a sense of responsibility.
Based on the above approach, we will not only comply with domestic and international labor laws and regulations on the following labor issues, but also strive to create a work environment where employees can reach their maximum abilities while working with safely and peace of mind.
Prevention of child and forced labor
Reduction of excessive working hours
Formulation of working conditions based on consultation between labor and management

We will maintain a certain standard of living for our employees through compliance with locally stipulated minimum wages and the payment of fair wages.

Guarantee of freedom of association and collective bargaining rights

We guarantee the freedom of association and collective bargaining rights for the employees we hire.
The Group's working conditions are formulated and implemented based on consultation and agreement between labor and management.
Management framework
General Affairs and the Human Resources and Organizational Development Group at Human Resources oversee initiatives related to personnel and labor management and human resource development. Each Group company operates its own personnel system and strives for human resource development. The Group-wide status is confirmed through regular audits to ensure there are no violations of laws and regulations or improprieties.
Initiatives for compliance with labor standards and work style reform
Consultation between labor and management regarding labor standards
We strive to ensure legal compliance through such means as sharing information on topic and amendments to labor-related laws with Group companies in order to ensure Group-wide legal compliance.
In fiscal 2017, Asahi Kasei Corp. also established an expert committee for the labor union and company to examine work style reform, and measures such as a telecommuting system have been implemented.
Moreover, we have promoted the use of annual leave days to reduce working hours. In addition to this, we monitor workplaces that have comparatively long working hours with the aim of preventing excessive working hours at the level of each organization.
Specific work style reform initiatives (adopted in fiscal 2019)
Work from home program
Availability of paid annual leave in one-hour units
Increase in number of annual leave days by one day, etc.
In fiscal 2019, there were three cases of Labor Standards Act violations where labor standards were violated in the Asahi Kasei Group (in Japan). Overtime hours exceeded the monthly limit (80 hours) in each case, and we have taken steps to prevent recurrence at the workplaces where they occurred.
Preventing harassment
The Asahi Kasei Group Code of Conduct clearly stipulates a policy of zero tolerance for any kind of discrimination or harassment. To this end, we explicitly prohibit sexual harassment and other forms of harassment in our employment regulations. We also seek to instill our company policy of zero tolerance for any kind of discrimination or harassment through training on corporate ethics for employees at each level – new hires, and newly appointed assistant managers and managers (administrators). In addition, we implement corporate ethics training by business unit and geographical area. We are currently holding seminars through the Asahi Kasei Group focused on the theme of fostering a corporate culture where there is no power harassment, and seminars for executive officers and department managers were largely completed by the end of fiscal 2019. We will conduct them for all employees, including general employees, in the future.
We have established a central point of contact for consultation about harassment and a compliance hotline (internal reporting system) that ensure anonymity for responding to various inquiries and concerns on related issues in the Asahi Kasei Group.
Training and consultation are also provided for staff from placement agencies and employees of affiliated companies, as part of our Group-wide effort to prevent the occurrence of harassment.
Employee survey
Management and labor work in concert to resolve people-related issues based on mutual understanding and awareness. As part of this, we perform an employee survey of employees in Japan every three years to provide information to line managers that will guide organizational invigoration and management, gauge improvements to previously identified problems and track changes in employee perceptions over time. Survey results are also utilized in the evaluation of initiatives in each department and the consideration of new Group-wide measures.
From fiscal 2020, we will change the content of the employee survey to one that contributes to greater engagement, and plan to conduct this survey every year. At the same time, we are working to understand the status of labor management and the occurrence of human rights and other violations in the Group in order to grasp the risks related to employee human rights issues.
Communication between management and labor
The Asahi Kasei Group supports employees' freedom of association and right to collective bargaining and strives to maintain a constructive partnership between management and labor.
Discussions on the overall management of the Asahi Kasei Group are held on a regular basis between the management of Asahi Kasei Corp. and the labor union, and separate discussions are periodically held at each business unit and operating site. In addition, regular meetings with the federation of labor unions are held to provide the venue to enhance open communication between management and labor.
We have concluded a union shop agreement with the Asahi Kasei Labor Union (an agreement under which all employees, except managers and supervisors, are members of the union), and the union has 9,762 members (as of June 1, 2020).
Policy
Our human resources policies are focused on the maintenance and reinforcement of a corporate culture emphasizing Asahi Kasei characteristics, the personal growth of each employee, and the creation and expansion of business through superior people and organizations, based on the understanding that the source of our competitive strength is the exceptional power of our people and organizations.
Established in March 2006, the Human Resources Principles of the Asahi Kasei Group are a distillation of the values and beliefs that are held in common by all employees, which is a key aspect of a corporate culture where personal growth and corporate development are mutually reinforcing.
Human Resources Principles
In accordance with these principles, our human resources development is focused on the mutual growth of individuals and organizations. As part of the medium-term plan beginning in fiscal 2019, efforts for human resources are focused on the growth of management and leaders, growth of professional groups and line managers who manage them, and growth of global personnel.
Diagram of human resources development system in fiscal 2019
Human resource development
A wide range of training programs
The human resources development program at the Asahi Kasei Group is structured with enhancing basic skills through OJT and heightening professional skills as a 2-layer foundation, with 3 pillars of cultivating management leaders, heightening specialist skills, and fostering global human resources to support employee skill development and business execution.
In addition, since fiscal 2018 when the number of career-track recruits increased, we have held a career-track recruit conference in Nobeoka, Miyazaki Prefecture, where our company was founded, as an opportunity for recruits to be aware of our history and culture.
Group Masters
For the Asahi Kasei Group to achieve sustainable growth amid dramatic changes in the business environment, we must seek growth and win in the global market. Human resources hold the key for doing this.
In this situation, Asahi Kasei Corp. employs a "Group Masters" program to broaden the segment of human resources with expertise that holds universal value through the appointment, training, and treatment of human resources expected to be actively involved and participating in creating new business and strengthening existing business as "Group Masters."
Under the program, we have defined five categories of Group Masters. We have clarified the respective roles of each Group Master category and enhanced treatment to create a mechanism that encourages the growth of human resources while securing outstanding external human resources at the same time.
We have also formulated a succession plan for Group Masters in each field, and have linked the succession plan to business reinforcement and human resource development, which will strengthen our competitive edge.
Categories and roles of Group Masters
Target areas
We define fields of technology to be strengthened business-wide as "core technologies" and appoint engineers to lead each core technology field as Group Masters.
As a result of organizing the core technologies, production technologies, know-how, business platforms, diverse market channels and business models, which have been cultivated as the source of the Asahi Kasei Group's competitiveness, we defined the 11 fields below as business-wide core technologies. We will also define the fields and occupational categories to be cultivated internally as experts for business-specific fields and key Group-wide functions (core platform fields) and will appoint human resources to lead those areas as Group Masters.
Development of global human resources
To maintain the global business expansion under our "Cs+ for Tomorrow 2021" medium-term management initiative from the perspective of human resources, we are implementing measures such as overseas challenge programs for young personnel with an eye to cultivating global staff, including an open recruitment overseas study program, and holding training sessions for personnel at overseas subsidiaries on subjects such as overseas post succession planning, dissemination of corporate philosophy, intercultural communication, and management skills.
Supporting independent study
In October 2003, the Asahi Kasei Group instituted a program to support independent study by employees. To encourage employees to acquire higher level specialized or technological ability, the company will pay part of the cost of attending courses or lectures. In fiscal 2019, a total of 826 employees utilized the program.
Policy
The Asahi Kasei Group Code of Conduct clearly stipulates that "we must respect individuals' basic human rights and diversity, not discriminate on the basis of nationality, ancestry, race, ethnicity, religion, gender, ideology, age, physical characteristics, sexual orientation, employment status, form of contract, etc., nor condone such discrimination" as company policy. We promote the establishment of a lively workplace which ensures equal opportunity and enables all employees to perform at their best without suffering discrimination. We seek to instill our company policy to prevent any discrimination or harassment through training on corporate ethics for employees at each level – new hires, and newly appointed assistant managers and managers. In addition, we implement corporate ethics training by business unit and geographical area.
Management framework
The Asahi Kasei Group believe that developing into a people-oriented organization in which human resources with diverse values are actively engaged is essential for sustainable business growth. To promote diversity including the engagement of various employees, we have a Diversity Promotion Group which advances diversity management throughout the Asahi Kasei Group.
Expansion of opportunities for women
In 1993, we established a dedicated corporate organ (now Diversity Promotion Group) to promote equal opportunity, and have proactively increased the proportion of women hired and expanded the distribution of job assignments for women. While only five employees at the rank of supervisor or above were women in 1993, this has risen to 660 in June 2019. To support female personnel through life events such as childbirth and parenting, we hold seminars on returning to work after maternity leave, and provide a mentoring program that encourages female managers to further develop their careers.
In fiscal 2020, we also formulated an action plan and targets below in accordance with the Act on Promotion of Women's Participation and Advancement in the Workplace.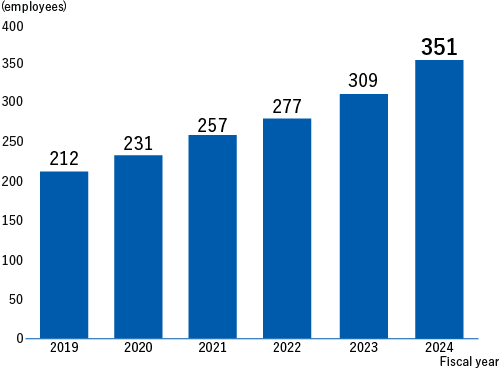 Number of women as managers and supervisors*
Asahi Kasei Group Action Plan*
We have developed an action plan to promote the active participation of women more than ever. As part of our efforts to create an environment in which diverse human resources with various values and backgrounds can play an active role together and contribute to the growth of our business and organization.
Term
April 1, 2021 – March 31, 2026
Content

Objective 1

Expand the human resources that can be candidates for senior management who play a leading role:
Increase the number of female managers by 40% from the number as of March 31, 2021

Objective 2

Aim for a situation where women are active in positions where they play a leading role:
Increase the total number of female section chief line managers and highly-skilled professionals by 20% compared to the number as of the end of March 2021
*

Action Plan for Asahi Kasei Corp., Asahi Kasei Microdevices Corp., Asahi Kasei Pharma Corp., Asahi Kasei Medical Co., Ltd., Asahi Kasei Homes Corp., and Asahi Kasei Construction Materials Corp.
Employment of persons with disabilities
Asahi Kasei Ability Corp. was established in 1985 as a special subsidiary for the employment of persons with disabilities, performing a wide range of services for the Asahi Kasei Group, including office automation services such as data entry, digitizing documents (conversion to PDF files), website design, printing of business cards, document printing and binding, dispatch of sample products, cleaning, copying, and planter box gardening.
On April 1, 2018, the legal minimum proportion for employment of persons with disabilities was revised upward from 2.0% to 2.2%. The proportion for applicable companies of the Asahi Kasei Group exceeded 2.2% throughout the year and as of June 1, 2020, stood at 2.27% (614 persons), exceeding the legal requirement.
*

The rate of employment and the number of persons employed are the average figures for each fiscal year for applicable companies of the Asahi Kasei Group. Calculations are based on total employment of 26,990 persons at the 20 applicable companies as of June 1, 2020. (The number of persons is calculated in accordance with the Act on Employment Promotion, etc. of Persons with Disabilities).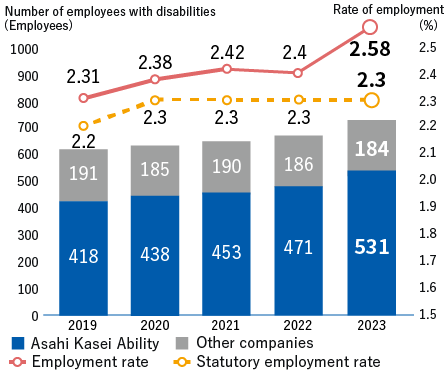 Rate of employment and number of persons with disabilities employed*
Initiatives at Asahi Kasei Ability
Asahi Kasei Ability, which actively employs persons with disabilities, completed its new Mizushima Office building in June 2018 and opened the Osaka Office in October 2018. Asahi Kasei Ability is expanding the size of its business, including the establishment of the Agriculture Promotion Group at the Nobeoka Office in January 2019 to engage in full-scale agriculture as part of its work design for employees.
In addition, Asahi Kasei Ability opened its Onuki Office in Onuki-cho, Nobeoka City in September 2019, and a newly established Business Development Group began operating within it. As the name suggests, the Business Development Group is an organization that engages in new business development and plays a role in nurturing future business. Currently, while the main focus of activities is to expand the laundry business for work clothes and dress shirts in the Nobeoka area, in the future it will actively take on new challenges such as ceramics (making chopstick rests) and coffee roasting.
In addition, many of our employees of compete in several prefectural Abilympics each year. Employees who win gold medals at the prefectural competitions qualify to compete in the National Abilympics. Seven employees represented their respective prefectures in the 2019 national competition (held in Aichi Prefecture), and one won a silver award in the sewing category, demonstrating the skills cultivated through daily work and practice.
System to Support the Activities of All Motivated Human Resources (tentative name)
In addition to promoting the active participation of women and people with disabilities, we have developed a wide range of supportive measures to create an environment that supports the individual circumstances of our employees and allows them to fully demonstrate their abilities.
For example, we have established a rehabilitation work system that allows employees to resume work in a phased manner in accordance with the instructions of an industrial physician to support a smooth return to work after a period of medical treatment. Going forward, we will continue to study ways to expand support for employees who work while undergoing treatment for illness.
As globalization continues to advance, an increasing number of personnel have a spouse who is transferred to an overseas assignment. In fiscal 2013 we adopted a provision for such personnel to take a leave of absence to accompany their spouses living overseas. In fiscal 2019, this provision was utilized by 19 personnel (including 1 male employee).
In addition, we are also working on plans to support the development of a network of foreign employees and are considering a system to register same-sex partners as married in the internal system.
Balancing work and family life
In order to improve the balance of work and family life, the Asahi Kasei Group complies with laws and regulations aimed at eliminating and reducing long working hours and provides various forms of support for personnel to work with security and vitality in accordance with their individual circumstances and values from the perspective of balancing work and family life. At the same time, we also foster a workplace environment that facilitates utilization of the provisions by raising awareness of them through our corporate intranet and offering management support for superiors. Many of the provisions we offer are also available to non-regular employees with some changes to the details, and are actually utilized by them.
Parental leave
Our parental leave is available through the fiscal year in which the child turns 3 years old at Group companies in Japan.
In fiscal 2019, parental leave was utilized by 657 personnel. This is included 406 men, with the rate of those who were qualified and actually utilized the leave exceeding 40% for the past five years in a row, and 251 women.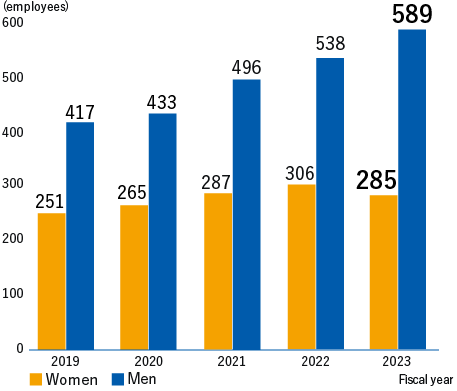 Employees using parental leave
Shortened working hours for child care
Personnel are able to utilize shortened working hours to care for preschoolers, with the working day shortened by up to 2 hours until the child enters elementary school. In September 2007, a provision called "Kids Support" was added to enable personnel with children up to the third grade of elementary school can work in a short time as well. These provisions may be used concurrently with a "flex-time" system for flexible working hours.
In fiscal 2019, 28 contract employees utilized shortened working hour system for childcare. In April 2020, we began to expand the applicable period of the shortened working hours system for childcare for contract employees (up to the start of elementary school) and the application of the kids support system (up to the end of the third year of elementary school).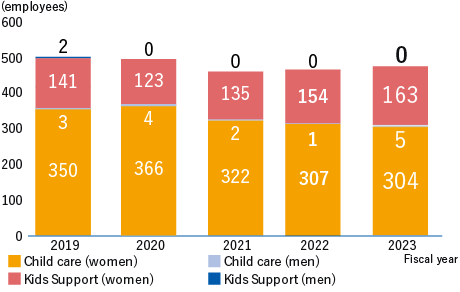 Utilization of shortened working hours system and kids support system
Platinum Kurumin certification mark
In 2016, Asahi Kasei Corp., Asahi Kasei Microdevices Corp., Asahi Kasei Pharma Corp., Asahi Kasei Medical Co., Ltd., and Asahi Kasei Ability Corp. received Platinum Kurumin certification from the Ministry of Health, Labor and Welfare. Platinum Kurumin certification is awarded in recognition of proactive support for the development of the next generation which is particularly outstanding.
Asahi Kasei Ability Corp. is the first company in Miyazaki Prefecture to receive Platinum Kurumin certification.

Support for family care
The Asahi Kasei Group has established systems to support caring for family members* that go beyond legal stipulations to provide support for balancing work with care for family members.
*

Leave of absence for family care

A leave of absence of 245 days in total is available for each disease of each family member who requires care.

 

Shortened working hours for family care

A total of 1,225 days for each family member who requires care

 

Flexible working hours for family care

"flex-time" system for working with short core times, etc.
Since 2011, we have been holding caregiving seminars at various locations across Japan, which were renewed in fiscal 2018 as seminars for supervisors who have subordinates balancing caregiving and work, to improve the understanding of supervisors and workplaces of employees who are responsible for caregiving. The free caregiving telephone consultation service (available 365 days a year and 24 hours a day to all Group employees and their family members), which was launched in April 2019, has been used for over 30 cases over the year. Furthermore, in April 2020, we expanded our short-time work program for caregivers as a measure in response to the increase in the number of at-home caregivers.
At the same time, in order to create an environment that facilitates utilization of these systems, we disseminate information on balancing work and family care and information about these provisions through our corporate intranet and distributed booklet on balancing work with care for family members (since January 2013).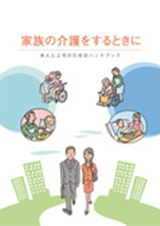 Booklet on balancing work with care for family members
Re-employment of employees at mandatory retirement age
In fiscal 2001, we introduced a voluntary re-employment program for all employees who have reached the retirement age of 60 to enable them to continue working and making use of their extensive experience and advanced skills. In fiscal 2013, we conducted a revision to increase the fixed amount of compensation by 1.5 times in order to maintain the same motivation and satisfaction as before retirement. In fiscal 2019, approximately 80% of employees who reached retirement age utilized the program to be actively engaged.