Asahi Kasei Group's Responsible Care Program
Responsible Care
RC represents the commitment and initiative to secure and improve safety and environmental protection at every step of the product life cycle through the individual determination and responsibility of each firm producing and handling chemical products, together with measures to gain greater public trust through disclosure and communication. RC was conceived in Canada in 1985 and was strengthened on a global scale with the establishment of the International Council of Chemical Associations (ICCA) in 1989. In 1995, the chemical industry in Japan began implementing RC with the establishment of the Japan Responsible Care Council (JRCC*). Asahi Kasei was among the founding members of the JRCC, and played a leading role in the expansion and development of RC in Japan.
The Asahi Kasei Group implements RC initiatives in all business sectors, including the chemical and electronics fields of the Material business sector, the construction materials field of the Homes business sector, and the medical devices and pharmaceuticals fields of the Health Care business sector. This is one of our unique features.
*

JRCC

Operated as the Japan Chemical Industry Association's RC Committee since April 2011.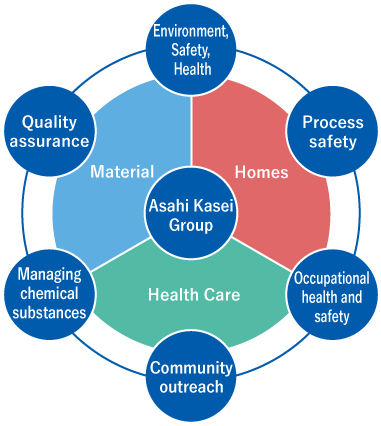 Message from the Executive for RC
Asahi Kasei started the three-year medium-term management initiative "Cs+ for Tomorrow 2021" emphasizing sustainability in FY2019. We aim to raise our corporate value by implementing various measures to achieve our business targets as well as by contributing to a sustainable society as indicated by the SDGs. The current operating climate is changing greatly with growing awareness for global environmental issues and corporate responsibility as a social entity. At the Asahi Kasei Group, in accordance with our Group Mission of contributing to life and living for people around the world, we ensure the stable provision of solutions that our customers can rely on while focusing on the three fundamental "actuals" of the actual place, actual thing, and actual fact, with active connections inside and outside the company to further heighten RC. We regard RC as a most crucial management issue, and to raise our corporate value for our various stakeholders we work to achieve our annual RC objectives while advancing RC activities from a broader perspective, reinforcing R&D to provide solutions to global warming and other environmental issues.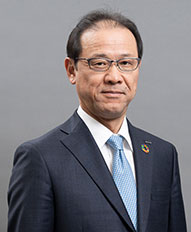 Shigeki Takayama
Representative Director,
Vice-Presidential Executive Officer
Asahi Kasei Corp.
Policy
RC at the Asahi Kasei Group is guided by the following principles.
In April 2016, a statement regarding quality assurance was added, and the six elements were condensed into four.
Asahi Kasei Group RC Principles
We give the utmost consideration to environmental protection, quality assurance, operational safety, workplace safety and hygiene, and health maintenance, throughout the product life cycle from R&D to disposal, as preeminent management tasks in all operations.
We give full consideration to the global environment and make efforts to reduce the environmental burden of all operations.
We continuously provide safe products and services with the quality that gives customers a sense of security and satisfaction.
We strive for stable and safe operation while preventing workplace accidents and securing the safety of personnel and members of the community.
We strive for a comfortable workplace environment, and support the maintenance and promotion of employee health.
In addition to maintaining legal compliance, we set self-imposed targets for continuous improvement, while performing proactive information disclosure and communication to gain public understanding and trust.
Revised on April 1, 2016
Management framework
The management system of Asahi Kasei Group RC is maintained in accordance with our Group RC Management Guidelines and other internal standards. The RC Committee1, a corporate organ under the direct authority of the president of Asahi Kasei, deliberates RC plans and results. In addition, the RC Promotion Council2 sub-committee gathers regularly, and RC initiatives are continuously improved with the repetition of Plan-Do-Check-Act (PDCA) cycles at the Regions and Works3, business units, and Group-wide.
Concerning RC management systems, we have obtained ISO 14001 environmental management system certification for environmental protection and ISO 9001 quality management system certification for product safety. An Occupational Health & Safety Management System (OHSMS) has been adopted for workplace safety, hygiene, and health.
1 RC Committee Management Organization
1RC Committee

Chair

Asahi Kasei President

Committee members

Asahi Kasei RC Officer, Asahi Kasei Corporate ESH Officer, Asahi Kasei Corporate Quality Ensurance Officer, Asahi Kasei RC Implementation Manager, Asahi Kasei Senior General Manager of Corporate ESH, Asahi Kasei Senior General Manager of Corporate Quality Ensurance, Core Operating Company RC Implementation Manager

Observers

Asahi Kasei Corporate Auditors, persons designated by the Committee Chair

Secretariat

Corporate ESH (Corporate Quality Ensurance)

Frequency of Meetings

Once per year

2RC Promotion Council

Chair

Asahi Kasei RC Officer

Committee members

Asahi Kasei Corporate ESH Officer, Asahi Kasei Corporate Quality Ensurance Officer, Asahi Kasei Senior General Manager of Corporate ESH, Asahi Kasei Senior General Manager of Corporate Quality Ensurance, Asahi Kasei RC Promoter, Core Operating Company RC Promoters

Secretariat

Corporate ESH (Corporate Quality Ensurance)

Frequency of Meetings

4 times per year

3Regions and Works

A site or group of sites consisting of several plants and facilities of various core operating companies. The Senior General Manager of each Region or Works is responsible for the unified implementation of RC in the respective Region or Works.
Targets and results
RC education and training
In order to ensure the advancement of RC activities, the Asahi Kasei Group conducts practical RC education and training concerning basic knowledge of and theories about RC. The training program applies to all key personnel who implement RC, including production managers and Environment, Health & Safety (EHS) managers, as well as candidates for those positions, group leaders of research departments, and EHS personnel.
Each fiscal year, we hold RC training courses especially for newly appointed staff covering general RC activities, employee health, operational safety, environmental protection, and workplace safety. These take place over 4 days, and 73 personnel took part in fiscal 2018.
In addition, aiming to improve the Group's RC level, a training course for assistant chiefs was formally initiated in fiscal 2012 and continues including requested improvements. In fiscal 2018, 154 personnel participated in the 3-day course. We will continue to promote education and training to meet various needs both inside and outside the company.
RC Conference
Our Group holds annual RC Conference, at Asahi Kasei Corp., group companies, and in various regions where we are active. At these symposiums we share information and revitalize RC initiatives by reporting on their status, holding presentations on activities, listening to lectures by experts invited from outside the company, and presenting Safety Awards.
The fiscal 2018 Asahi Kasei RC Conference held in December in the Suzuka area drew approximately 530 participants.