Policy
To ensure the sustainable utilization of living resources, we give due consideration to reducing the impact of our business activities on biodiversity, and we have established guidelines for the preservation of biodiversity. Based on these guidelines, in fiscal 2010 the Asahi Kasei Group began examining the impact of our business activities on biodiversity. In order to promote business activity mindful of biodiversity, we are working to raise awareness among personnel by various means including our RC education program.
Investigation of impact on biodiversity by procurement
Regarding the impact of our business activities on biodiversity when there is a newly used raw material or a change in use of raw materials, we use a survey sheet on the relationship between business operations and biodiversity to examine the country of origin of raw materials, processers and manufacturers, and primary vendors (trading companies, etc.), in order to confirm the absence of any problem.
Group-wide activities for biodiversity
What is the "Town Woods" Program?
We aim to increase value from the perspective of biodiversity while enhancing green spaces at Asahi Kasei Group operating sites. We will use Town Woods Pots as a tool to heighten understanding and awareness of the value of biodiversity among personnel.
What are Town Woods Pots?
This new way of landscaping by Asahi Kasei Homes combines four layers of vegetation of varying heights: Tall, medium, short, and groundcover. While compact enough to integrate with urban residential areas, they increase the space for other plants and wildlife in artificial environments that otherwise have little greenery. Our Town Woods Program uses the phytosociological method to classify green spaces at operating sites throughout Japan, selecting the most suitable regional vegetation when creating the Town Woods plantings.
Town Woods Project: (FY2019-2021) Phase 1 Targets
| | |
| --- | --- |
| Target I | Install Town Woods Pots at all 42 Asahi Kasei Group operating sites |
| Target Ⅱ | Accumulate a total of 1,200 "Town Woods Points" during the period. |
*

Town Woods Points (Machi-Mori Point: MMP)

Initiatives at all Asahi Kasei Group sites are divided into four stages. Each initiative earns Town Woods Points and the points are aggregated across the group.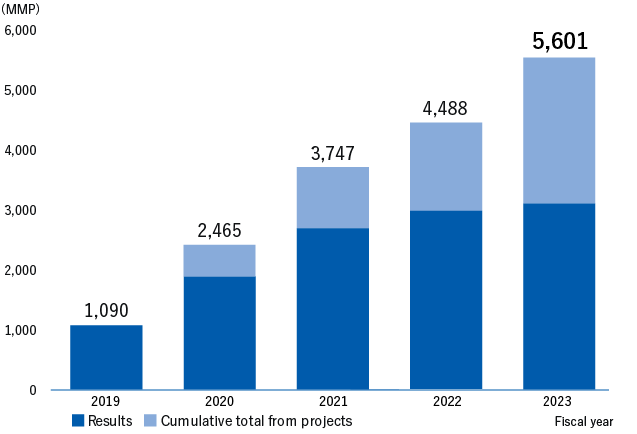 Stage
Example Initiatives
Stage 1
Installation

Installing the Town Woods Pots
Posting information about the Town Woods Pots
Maintaining them properly so they thrive

Stage 2
Observation

Recording trunk thickness and tree height
Photographing and recording information on features like flowering, fruiting, and foliage
Photographing and recording information on the wildlife that visits the Town Woods Pots
Photographing and recording information on naturally occurring vegetation

Stage 3
Dissemination

Actively disseminating information including photographs and records of observed plant and animal life both within and outside the site. The dissemination will take place online, through bulletin boards, directly communicating with the local community, etc.

Stage 4
Development

Expanding the initiative to other locations
Collaborating with other programs both within and outside the site
Stage1:Installation
Stage2:Observation
Stage3:Dissemination
Stage4:Development
Publishing News on the Town Woods Program
Staff in charge at our various sites will be provided with news about the Town Woods Program and the seasonal highlights of plants showing their changes. Content that can be incorporated includes photographs from the sites showing implementation of the Town Woods Program, columns on wildlife, and topics on the plant and animal life in green spaces around the sites.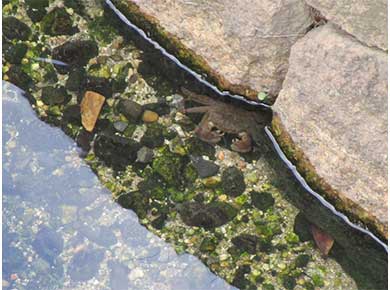 Interviews with local plant growers
We favor local saplings and seedlings for the Town Woods Pots, we have interviewed a grower who provides them for this initiative.
"I want to make vibrant plantings that incorporate the kind of vegetation that grows wild in the mountains."
Isogai Hiroshi, Biotope Advisor
Environmental Technology Research Group
Environmental Solutions Department
Lago Co., Ltd.
Lago protects the natural environment through surveys of wild animals and plants, design and construction of green spaces that take them into account, and environmental education with a focus on nature that's close at hand.
In our work with local plants, we obtain permission from the landowners to collect seeds and stock. We then grow them into seedlings and saplings. We handle 30 - 50 types of plants that grow in waterside and land environments, all of which originate in Shiga Prefecture.
We insist on plants native to Shiga Prefecture because focusing on local varieties is an important means of preserving the natural environment. Non-native varieties can disrupt the balance created over the eons between the local ecosystem and its creatures in a manner similar to invasive species. Even if a plant originated in the region, if it's brought in from a distant area, it can lead to genetic crossing and damage the region's unique genetic diversity. As such, our production areas in Shiga Prefecture are precisely demarcated, and growing takes the genetic diversity of the region into account. We are also very careful not to introduce weed seeds or tiny creatures that may be in soil and water brought in from other regions.
There are numerous difficulties with growing native plants. For example, even if some wild trees or shrubs appear similar, depending on the variety their sunlight and soil requirements may differ greatly. We also often handle plants with special requirements that usually are not grown commercially. Through repeated trial and error, we constantly seek methods of raising seedlings that fit the local ecology. It's not easy, but it keeps things interesting.
In the future, we would like to grow a variety of plants like those growing naturally in the mountains so that we can help improve greening.
Notable activities in fiscal 2018
Actions in the Moriyama Area
Ex-situ conservation of endangered smallhead stickleback, a freshwater fish
In Moriyama, we draw groundwater for industrial use in cooling equipment. Its quality is strictly monitored, and it is discharged to nearby rivers after use. A portion of the discharged water from our Moriyama Works is also used for agriculture, which has become vital for local farmers as well as wildlife inhabiting the waterfront areas.
Against this backdrop, and since water is intrinsically related to our business operations, we started initiatives to protect biodiversity with a focus on water resources starting in fiscal 2010.
In fiscal 2015, we began ex-situ conservation activities focused on the smallhead stickleback, a freshwater fish which is designated as an endangered species. In fiscal 2018, we held an event for employees and their families that involved observing the smallhead stickleback in the conservation pond they inhabit. We confirmed the presence of over 50 smallhead sticklebacks, indicating the effectiveness of our conservation activities.
Actions by Asahi Kasei Juko Co., Ltd.
Project to rediscover living with the woods and water in Higashiomi
The Shiga Plant of Asahi Kasei Juko (AKJ) is located in the Yuya area of Higashiomi City where there had formerly been a diverse lakeside ecosystem of ponds, rice paddies, and woods. There was a culture of life centered around ponds for irrigation and firefighting. By restoring some of the ponds, AKJ is preserving the habitat for local wildlife, conveying the importance of this to community residents through activities like observation tours. We also hold events at the plant, creating a venue that will lead to the protection of forests and crops as local resources.
In fiscal 2018, in cooperation with Higashiomi City and the neighborhood elementary school, we held wildlife observation tours lead by specialists on holidays and during the plant's fall festival. These took place at the Yuya Hebel Biotope that was created on the grounds in 2017 to protect wildlife inhabiting the lakeside ecosystem.
We report on these activities both inside and outside the company through public relations magazines and other outlets. In March 2019, the Shiga Plant earned a 3-star ranking from the Shiga Biodiversity Initiative. It is the highest rank available in the initiative launched by Shiga Prefecture in FY2018.
Actions in Fuji Area
"Asahi Woods of Life" project
The Asahi Woods of Life was created in 2007 as an ecotope on the grounds of our plant in Fuji City to restore the natural environment and village landscape of the Tagonoura area and preserve the local ecosystem. By developing the Asahi Woods of Life, we nurture local plant and animal life via an ecological network that incorporates forests and the area's green spaces as a whole. We use this to support human development through environmental education and emotional training, applying the insight gained through these activities to business operations.
Principal Activities
To monitor and manage the growth of the Asahi Woods of Life, we perform surveys of the afforested area, including a fixed vegetation survey, a survey of each tree, a comprehensive vegetation survey, and a survey of birds and insect fauna. We also conduct a monitored survey of the creation of ecological networks in conjunction with ecosystem surveys of nearby parks, residential areas, and elementary schools.
In fiscal 2018, the results of our studies were presented with a paper and posters in collaboration with external researchers at the Botanical Convention of Japan's 23rd National Convention and at the Ecological Society of Japan's 66th Annual Convention. In addition, we hold lectures and training both within and outside the company, including at the Civic Environment Forum by the Institute for Global Environmental Strategies' (IGES) International Center for Ecology.
In conjunction with government officials and museum personnel, we hold nature observation tours as part of our environmental education activities in connection with children's environmental clubs and other organizations.
We also hold a firefly watching event in early summer to deepen communication with the community.
In recognition of these activities, in July 2019, the project was certified as "Excellent Stage 3" in the Nurturing Category of SEGES (Social and Environmental Green Evaluation System) administered by the Organization for Landscape and Urban Green Infrastructure.
Actions in Nobeoka and the Hyuga Area
The third tree-planting of the Asahi Forest at Hayahi Ridge
On May 11, 2019, our Nobeoka branch planted the third Asahi Forest at Hayahi Ridge in Hayahi, Kitakatacho, Nobeoka City, Miyazaki Prefecture. Since 2007 we have participated in a reforestation program led by Miyazaki prefecture to create forests in cooperation with companies. We planted more than 43 hectares of broad-leaf trees and other trees native to the area, replacing plantations of cedar and cypress. This included 20 hectares in Hinokagecho, 20 hectares in Takachiho, 1 hectare in Gokase, and 2 hectares in Kitakatacho.
This time at the tree planting ceremony we planted a total of 1,500 broadleaf saplings on a 1-hectare site in Kitakatacho's town forest at Hayahi Ridge. The planting included 500 wild cherries, 500 maples, 500 wild chestnuts. The weather was wonderful, and some 450 people participated, including many of our employees and their families, Asahi Kasei retirees, employees of AJS Inc., and other companies in Nobeoka.
A series of events were held including the opening ceremony, tree planting, lunch, a market of local specialties, and a drawing for prizes. Thanks to the cooperation of officials from Nobeoka City and Kitakatacho, members of the Nobeoka District Forestry Association, as well as staff and related parties, it was a tree planting ceremony to remember.