Policy
To ensure the sustainable utilization of living resources, the Asahi Kasei Group gives due consideration to reducing the impact of our business activities on biodiversity, and we have established guidelines for the preservation of biodiversity. Based on these guidelines, we have been working to understand the relationship between our business activities and biodiversity since 2010. In order to promote business activity mindful of biodiversity, we are working to raise awareness among personnel by various means including our ESH education program.
Participation in the 30by30 Alliance for Biodiversity
The 30by30 Biodiversity Alliance was established by members of interested companies, local governments, and organizations in April 2022 in order to advance initiatives to gain OECM certification for areas safeguarded as company green spaces or under similar designations, with the aim of achieving the 30by30 target. We have joined the Alliance and are pursuing pilot projects for certification.

Investigation of impact on biodiversity by procurement
Regarding the impact of our business activities on biodiversity when there is a newly used raw material or a change in use of raw materials, we use a survey sheet on the relationship between business operations and biodiversity to examine the country of origin of raw materials, processers and manufacturers, and primary vendors (trading companies, etc.), in order to confirm the absence of any problem.
Group-wide activities for biodiversity
What is the "Town Woods" Program?
We aim to increase value from the perspective of biodiversity while enhancing green spaces at Asahi Kasei Group operating sites in Japan. We will use Town Woods Pots as a tool to heighten understanding and awareness of the value of biodiversity among personnel.
What are Town Woods Pots?
This new way of landscaping by Asahi Kasei Homes combines four layers of vegetation of varying heights: Tall, medium, short, and groundcover. While compact enough to integrate with urban residential areas, they increase the space for other plants and wildlife in artificial environments that otherwise have little greenery. Our Town Woods Program uses the phytosociological method to classify green spaces at operating sites throughout Japan, selecting the most suitable regional vegetation when creating the Town Woods plantings.
Town Woods Project: (FY2019–2021) Phase 1 Targets and FY2021 Results
| | | |
| --- | --- | --- |
| | First Phase Targets (FY2019–2021) | FY2021 Results |
| Target I | Install Town Woods Pots at all 41 Asahi Kasei Group operating sites in Japan | Achieved goal of installing "Town Woods" pots at all 41 sites in Japan by FY2020 |
| Target II | Accumulate a total of 2,600 "Town Woods Points" (MMP) during the period. | Achieved goal with cumulative MMP total of 3,747 points by fiscal 2021, including MMP from submissions within projects |
Town Woods Points (Machi-Mori Point: MMP) Initiatives at Asahi Kasei Group sites are divided into four stages. Each initiative earns Town Woods Points and the points are aggregated across the group.
Stage
Example Initiatives
Stage 1: Installation

Installing the Town Woods Pots
Posting information about the Town Woods Pots
Maintaining them properly so they thrive

Stage 2: Observation

Recording trunk thickness and tree height
Photographing and recording information on features like flowering, fruiting, and foliage
Photographing and recording information on the wildlife that visits the Town Woods Pots
Photographing and recording information on naturally occurring vegetation

Stage 3: Dissemination

Actively disseminating information including photographs and records of observed plant and animal life both within and outside the site. The dissemination will take place online, through bulletin boards, directly communicating with the local community, etc.


Stage 4: Development
Initiatives in other locations

Expanding the initiative to other locations
Collaborating with other programs both within and outside the site
(In FY2021, as in FY2020, we refrained from holding the event due to COVID-19)
FY2021 Project: "Town Woods" Plant Watching
With work-at-home measures continuing in fiscal 2021 due to the COVID-19 pandemic, we expanded viewing locations to include home gardens and neighborhood parks and roadsides in addition to the areas around our Town Woods Pots, and organized a limited-time project with the goal of considering environmental issues close to home through observing plants.
For this initiative, we split the project into a summer season (July 15 to September 22) and a fall season (September 23 to November 15), during which we observed plants, bearing in mind the categories of "native species" and "non-native species," to record the range of plants and the condition of the natural settings immediately around us.
Through this initiative, we received 167 submissions (1,032 MMP) and identified a total of 58 families, 98 genera, and 119 species of plants, of which 86 species were identified as native and 24 as non-native. Experts praised the project as an excellent and highly unique activity, commenting that carrying out an initiative of this kind on a company-wide scale not only increased environmental awareness within the company but also enabled the recording of core data about regional natural environments.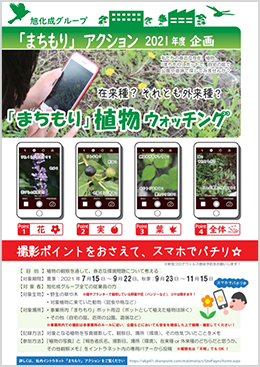 Town Woods Program Awards
We presented awards for excellent initiatives from fiscal 2019 to fiscal 2021 (Phase 1) at the sites and plants taking part in the Town Woods Program.
Award-winning sites and plants were selected on the basis of assessment criteria that comprised taking the details of sites' and plants' initiatives and totaling Town Woods Points for each of their stages, and evaluating stand-out initiatives from both regular submissions and submissions under our FY2020 and FY2021 projects.
Rather than presenting awards on the basis of attaining a large number of Town Woods Points, we identified and assessed creative initiatives and those with potential for expansion, and selected initiatives that reflected our award titles and points of particular merit.
Award-winning sites & plants and points of particular merit
Oita Plant

The Regional Award—attention paid to the site as a whole and the region beyond, with a focus on observation of Town Woods Pots, is hoped to lead to more substantial initiatives

Mizushima Works

The Collaboration Award—effective environmental education and outreach not only by the Environment Manager but also with successful collaboration from employees from the wider staff body

Asahi Kasei Pax Corp. Ono Plant

The Perseverance Award—steadily conducting observations and submissions every year even as a small-scale site

Moriyama Works

The Development Award—expanding initiatives to other sites by planting new Town Woods Pots during the tree planting carried out at the time of the plant's expansion

Asahi Kasei Juko Co., Ltd. Shiga Plant

The Innovation Award—contributing to biodiversity by implementing diverse initiatives thanks to a wealth of ideas at each initiative stage
Establishing Town Woods Tree Planting Guidelines
Utilizing knowledge gained through the results of Town Woods Program initiatives carried out from fiscal 2018 to fiscal 2021, we established our Town Woods Tree Planting Guidelines in August 2022 in order to promote Group-wide tree planting, which will contribute to the preservation of biodiversity.
Notable activities in fiscal 2021
Actions in the Moriyama Area
Ex-situ conservation of smallhead stickleback, an endangered freshwater fish, and joint effort among companies and communities for dragonfly conservation
In Moriyama, we draw groundwater for industrial use in cooling equipment. Its quality is strictly monitored, and it is discharged to nearby rivers after use. A portion of the discharged water from our Moriyama Works is also used for agriculture, which has become vital for local farmers as well as wildlife inhabiting the waterfront areas.
Against this backdrop, and since water is intrinsically related to our business operations, in fiscal 2010 we started initiatives to protect biodiversity with a focus on water resources.
In fiscal 2015, we began ex-situ conservation of smallhead stickleback, an endangered freshwater fish, and in fiscal 2016, we began dragonfly conservation activities in cooperation with companies that have operations located in Shiga Prefecture and local communities. In fiscal 2021, we carried out ecological surveys of the smallhead stickleback, which we are working to protect and help to proliferate in the "Moribio" biotope at our Moriyama Works, and confirmed that over 100 individuals of the species are inhabiting the biotope. When conducting a study of their release into the wild, we also collaborated with curators from Shiga's Lake Biwa Museum to carry out a survey of smallhead stickleback in the Noto River. Further, to safeguard smallhead stickleback in the Kanegamori (Moriyama) Residents' Association's Yusui Park, we eradicated Louisiana crawfish and put in place enclosures designed to protect the smallhead stickleback and help them to proliferate. We will continue to work for the protection and proliferation of the smallhead stickleback in collaboration with the local community.
In collaboration with companies that have operations located in Shiga Prefecture (Biodiversity Biwako Network), we are involved in "Operation Dragonfly 100: Save Shiga's Dragonflies!" This project involves working with local communities to survey the habitat of the Sympetrum kunckeli variety of dragonfly, which resides in wetlands, and to conserve it using a container biotope. In fiscal 2021, we were able to confirm breeding and emergence of the Sympetrum kunckeli variety of dragonfly in the Moribio for the first time. In addition, a species survey of the Moribio confirmed the presence of the rare four-spotted skimmer, water scorpions, the Ricciocarpos natans variety of liverwort, and more, giving us first-hand experience of the Moribio's indispensability as a site for conserving regional biodiversity. We intend to continue our work to conserve biodiversity in collaboration with various organizations.
Actions by Asahi Kasei Juko Co., Ltd.
Project to rediscover living with the woods and water in Higashiomi
We are carrying out conservation works at Asahi Kasei Juko Co., Ltd.'s Shiga Plant—principally at the "Yuya Hebel Biotope" created on the plant's grounds—in aid of the four-spotted skimmer (our "nominated dragonfly"), a keystone species on the Shiga red list and which surveys of dragonflies in the surrounding area show to be at risk of extinction due to habitat degradation in recent years.
In May 2021, 75 four-spotted skimmer eggs were taken from neighboring habitats and transferred to a simple biotope created using a container and installed on the plant grounds. One year later, we were able to confirm that approximately 25 dragonflies had emerged as a result, bring the total number to emerge (including imagoes that emerged in the wild) to nearly the same level as that of the previous year at approximately 100 individuals.
Emerged imagoes were marked on the back of the abdomen before release into the "Yuya Hebel Biotope" on the Shiga Plant's grounds. We later confirmed that approximately 50 four-spotted skimmers, including some with marks, had flown to the Yuya Hebel Biotope and engaged in breeding activities, allowing us to conclude that the four-spotted skimmer has essentially established itself in the biotope over a five-year period.
In September 2021, we also carried out a seedling survey of the area around the biotope in the aim of both obtaining a basic survey of the planting structure designed to allow four-spotted skimmers that have emerged in the biotope to remain there for a given period and establish themselves at the site, and getting a picture of the biotope's plants. We plan to raise plants from those seedlings in fiscal 2022.
Actions in the Suzuka Area
A river known as the No. 19 River cuts through the grounds of our Suzuka Plant from north to south, and water used to cool equipment is discharged into this river, with strict water-quality monitoring. Despite its narrowness, the No. 19 River has been found to be home to a wide variety of aquatic life. Distinctive aquatic creatures that can be seen in this river include turtles (shown on land on a rainy day in the photograph below), as well as catfish, the presence of which we had been unable to confirm until last year. You can also see small freshwater crabs of 2–3 cm in size between the rocks of the stone embankments on either side of the river, apparently—as further testified to by the presence of other aquatic organisms—playing their part in the food chain.
Reliably conducting quality monitoring of discharged water is vital not only in the aim of compliance with legal and regulatory water discharge standards but also in order to maintain this No. 19 River waterside environment inhabited by a range of aquatic species. We will continue our efforts toward environmental protection, such as not only conducting water quality monitoring in all production departments but also monitoring water quality near the gates where effluence is combined and discharged into the river, so that these aquatic creatures can safely inhabit the area.
Actions in Nobeoka and the Hyuga Area
Since 2007 we have participated in a reforestation program led by Miyazaki prefecture to create forests in cooperation with companies. We planted more than 44 hectares of broad-leaf trees and other trees native to the area, replacing plantations of cedar and cypress. This included 20 hectares in Hinokagecho, 20 hectares in Takachiho, 1 hectare in Gokase, and 3 hectares in Kitakatacho.
Having postponed our tree planting event in the approximately five hectares of field made available by Hinokagecho since fiscal 2020 due to COVID-19, we were able to recruit participants and hold the event in fiscal 2022 for the first time in three years. While we would normally hold this event with 400 participants, this fiscal year we limited the number of participants to approximately 150 and planted 1,500 trees over approximately one hectare of land.
Please refer to the document below to see Asahi Kasei Homes initiatives.