Policy
Products and services provided by the Asahi Kasei Group internally and externally include materials, products, installations, various services, and after-sales support. We believe that providing safe and reliable products and services that satisfy our customers is our ultimate mission.
In 2016, we established the Asahi Kasei Group Quality Policy and Group Quality Assurance Bylaws. Based on these, we promote quality assurance to provide products and services that satisfy our customers.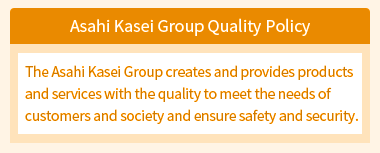 Management framework
In April 2019, we appointed a dedicated Executive for Quality Assurance to further reinforce the management framework.
Corporate Quality Ensurance of Asahi Kasei Corporation oversees and coordinates Group-wide quality assurance activities. In addition to the Quality Assurance Group, Corporate Quality Ensurance is composed of the Chemicals Management Group, which functions to ensure quality assurance as a comprehensive chemical manufacturer, and the Pharmaceutical Affairs and Reliability Assurance Group, which functions to ensure quality assurance in the provision of products and services in the health care area. Corporate Quality Ensurance serves a head-office function as a hub for the Group's quality assurance framework and strives to reinforce quality assurance activities throughout the Asahi Kasei Group to deliver safe and reliable products and services to our customers.
Each core operating company and strategic business unit within the Group performs quality assurance in accordance with the products and services provided in each business area in conformity with uniform Group guidelines and bylaws.
The Group Quality Assurance Bylaws stipulate quality assurance activities for RC administrators to lead. The bylaws also define the central role of quality assurance managers in activities to enhance quality assurance. The quality assurance managers' conference is held four times a year to transmit and share information among the entire Asahi Kasei Group.
Corporate Quality Ensurance collates and prepares a Monthly Quality Assurance Report, based on which the Executive for Quality Assurance holds monthly quality assurance meetings to discuss information related to quality assurance.
Product safety and product liability
The Asahi Kasei Group has also formulated the Group Guidelines for Product Safety Measures in order to make the approach to product safety and product liability in the Group Quality Assurance Bylaws even more specific.
Product safety
The procedures for realizing safe products and services are specified by the Guidelines for Ensuring Safety of Equipment and the Guidelines for Ensuring Safety of Chemicals.
Chemical substance management
The Asahi Kasei Group identifies the properties of chemical substances and appropriately manages each process from product development, raw material procurement, and production (including intermediates) through to use and disposal in order to ensure the safety of products and production processes. We implement the chemical substance management shown in the diagram below at each stage from the perspectives of the global environment, operational safety, workplace safety, hygiene, and health, and quality assurance (product safety).
Corporate Quality Ensurance (Chemicals Management Group) serves as the secretariat for the implementation of chemical substance management in each business unit let by the Group"s quality assurance managers.
Research and development
The management of chemical substances begins in the R&D stage when the applications for chemical substances are determined, and is guided throughout every stage by a commitment to developing products and process characterized by safe, environmentally sound production, handling, and use.
Materials purchase
When purchasing materials, information related to the safety of chemical substances is received from the supplier. This information serves as a guide to safe storage and handling.
Production
The safety of the local community and the protection of the environment are secured by proper handling of chemical substances, including intermediates, to suppress environmental release and to prevent fires, explosions, and leaks. The health of employees is protected by performing sound risk assessment for chemical substances and preventing workplace exposure to hazardous substances.
Sale, use, and disposal
Guidance for proper use and disposal of chemical substances and chemical products is provided in Safety Data Sheets (SDSs), technical bulletins, and product brochures. Transport Emergency Cards are issued to guide the proper environmental and safety response in the event of an accident during physical distribution.
Quality assurance training for employees
Development of core human resources for quality assurance
We held the Quality Assurance Forum, which was launched as a new initiative in fiscal 2017, again in fiscal 2018 to continue heightening awareness of quality assurance among younger and mid-level employees across the Group. Approximately 30 employees selected from throughout the Asahi Kasei Group gathered at the head office for half a day once per month from October to March. The forum consisted of group discussion on the given subject together with lectures on the same subjects from outside experts (mainly eminent university professors in the field of quality control.) At the final session, participants in each business sector discuss issues in their own organizations based on what they learned, and prepare proposals to present to management. We plan to continue this forum from fiscal 2019 onward and increase the number of participants as a core element of in-house quality assurance training.
We also held quality management seminars for department managers who we had not received the Group's uniform quality assurance training, with instructors invited from other companies.
Chemical substance management training
We provide regular training to research, production, and sales staff in each area of the Asahi Kasei Group. Such training includes sharing the most up-to-date information on chemical substance-related laws and regulations (Act on the Evaluation of Chemical Substances and Regulation of Their Manufacture, etc., Industrial Safety and Health Act, Poisonous and Deleterious Substances Control Act, etc.) in Japan and overseas for the management of chemical substances and consideration of responses, and presentations of the latest themes in chemical substance management.
Appropriate labeling and information provision
Providing appropriate information to our customers
The Asahi Kasei Group, which provides customers with products and services that are end products for domestic and household-use products, provides information that includes product performance, precautions, and suggested usage to ensure safe use of our products and services.
We endeavor to provide descriptions of products and services to customers, including product labeling and advertisements, that are easy to understand and not misleading. In addition, we confirm the content of descriptions and advertisements of products and services at each stage from product development and introduction to sale, and continuously check that there is no infringement of related laws, regulations, or voluntary industry standards, and confirm that customers are able to properly use products and services safely and reliably.
Responding to Globally Harmonized System (GHS)
Globally Harmonized System of Classification and Labelling of Chemicals (GHS) is a system for classifying and labelling chemicals in accordance with globally unified rules in order to help with accident prevention and health and environmental protection. The Asahi Kasei Group is advancing a program to classify the hazards of all of our chemical products in accordance with GHS categories, and revise our SDSs and label our products with safety information accordingly.
Participating in Japan Initiative of Product Stewardship (JCIA)
The Japan Initiative of Product Stewardship (JIPS)* is a voluntary program by the JCIA which has promoted voluntary risk assessment and management of chemical substances, and encouraged enhanced product stewardship in Japan. Going forward, the Asahi Kasei Group will continue to promote voluntary activities in step with activities by the JCIA to promote the initiative.
*

JIPS (Japan Initiative of Product Stewardship) is a chemical industry initiative promoted by the Japan Chemical Industry Association to minimize chemical risks with the aim of achieving the 2020 targets set by the World Summit on Sustainable Development.
REACH compliance
We conduct internal education and training on REACH*1 requirements and periodically hold meetings among related parties. To fulfil our obligations related to SVHC*2 which include transmission of information, we gather information on chemical substances that are newly added as candidates for authorized regulation, and provide it to the users who request it. At the same time, we continue to move forward with preparations for CLP*3 regulations.
*1

Registration, Evaluation, Authorization and Restriction of Chemicals (REACH) is a regulation in Europe on chemical substances. It obliges registration of the usage and safety of chemical substances imported to or produced in Europe. Substances judged to pose high risks are subject to authorization and restriction.

*2

Substances of Very High Concern. Substances added to a list of candidates for authorized regulation.

*3

CLP is a regulation in Europe on classification, labeling, and packaging of substances and mixtures in accordance with GHS.
Joint Article Management Program (JAMP) and chemSHERPA
As a major upstream company, we participate in the activities of the steering committee and individual committees of JAMP relating to the transmission of information on chemical substances contained in products throughout the supply chain and work actively on building tools and systems as well as revision of the list of applicable substances. In fiscal 2018, we engaged in activities to encourage greater adoption of chemSHERPA (a scheme for transmission of information on chemical substances contained in products) while making active efforts to provide and obtain information throughout the supply chain.
Going forward, as a major upstream company, we will continue to work with the JAMP Office toward the greater adoption of chemSHERPA.
Mechanisms to utilize customer feedback
We believe satisfying customers and providing products and services that are a delight to use translates into contribution to society. In order to achieve this, we believe that it is most important to identify true needs by listening carefully to customer feedback to establish two-way communication. The Asahi Kasei Group has built frameworks for such communication with customers in each of our businesses and strives to listen to frank and honest feedback.