Policy
Considering climate change to be a significant issue which may affect our business operations in the future, the Asahi Kasei Group performs climate change measures including the reduction of greenhouse gas (GHG) emissions.
As a member of the Japan Chemical Industry Association, we participate in Nippon Keidanren's Commitment to a Low Carbon Society launched in April 2013, and continue to implement activities in line with this commitment. In addition, taking into account the expansion of production at overseas plants, we have set global reduction indicators and targets.
The Asahi Kasei Group's efforts for a low-carbon society
1.

Reducing GHG emissions of the Asahi Kasei Group

(1)

New medium-term management plan emission reduction target

(2)

Scope 1 + 2 emissions (domestic + overseas)

(3)

Scope 3 emissions

2.

Helping reduce CO2 emissions throughout the entire lifecycle of products

3.

Making international contributions

4.

Developing innovative new technologies
Greenhouse Gas (GHG) Emission Reduction Targets in the New Medium-Term Management Plan
According to the policy of the new medium-term management plan "Cs+ for Tomorrow 2021" (FY2019-2021), the Asahi Kasei Group will work to reduce GHG emissions from manufacturing processes and contribute to the reduction of GHGs through technologies and products that help realize a sustainable society. Our numerical target seeks to reduce Scope 1 + 2 (domestic + overseas) GHG emissions relative to sales for fiscal 2030 by 35% compared to fiscal 2013.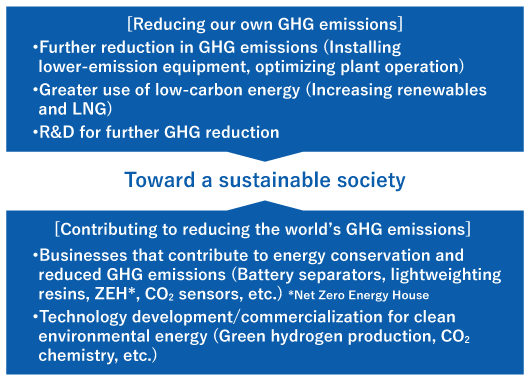 Reducing GHG Emissions
Asahi Kasei Group GHG emission intensity
In fiscal 2018, the Asahi Kasei Group's greenhouse gas emissions per unit of production improved by 27% compared to fiscal 2013.
The main factors in this reduction were improvements in the structure of our commodities business and improved operating rates of N2O decomposition facilities.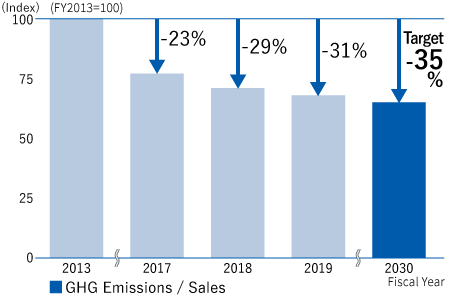 GHG Emissions / Sales
Scope 1 and 2 GHG emissions
All subsidiaries and affiliates under management control are subject to calculation of Scope 1 and Scope 2 GHG emissions of the Asahi Kasei Group, and GHG emissions from generation of electricity and steam sold outside the Asahi Kasei Group are included. In fiscal 2018, our Scope 1 GHG emissions were 3.18 million tons of CO2-eq, and Scope 2 GHG emissions were 1.07 million tons of CO2-eq, bringing the total of Scope 1 and 2 to 4.24 million tons of CO2-eq. This is a reduction in GHG emissions of approximately 15% compared to the 4.96 million tons of CO2-eq released in the base year of 2013. The main factors in this reduction was the discontinuation of production of ammonia, benzene, and ethylene, and the operation of a biomass power generation plant.
*

Figures with have received independent assurance by KPMG AZSA Sustainability Co., Ltd.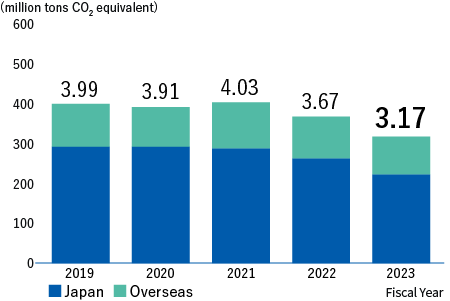 Global GHG emissions
Scope 3 emissions
The domestic Japanese portion of Scope 3 emissions has been calculated for all operations except Asahi Kasei Pharma, yielding data on 99% of such emissions for the entire Asahi Kasei Group. In fiscal 2017 we began including Scope 3 emissions of overseas operations in our calculation.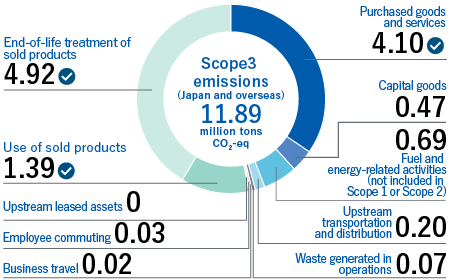 Global Scope 3 emissions
*

Scope 3 emissions

Greenhouse gases emitted indirectly by a company throughout its supply chain. The methods for calculating Scope 3 emissions from Category 1, 11 and 12 are described in Environmental data.
*

From fiscal 2018, emissions in Category 11 and 12 of Scope 3 are subject to independent assurance by KPMG AZSA Sustainability Co., Ltd.
Efforts to Reduce CO2 Emissions in Japan
Renewable energy
The Asahi Kasei Group has 9 hydroelectric power generation plants in the Nobeoka Region, which provided approximately 14% of the total electricity we used in Japan in FY2018. Generation of the equivalent amount of power at thermoelectric plants would result in approximately 180 thousand tons* of CO2 emissions annually.
Furthermore, our biomass power generation facility in Nobeoka started operation in August 2012.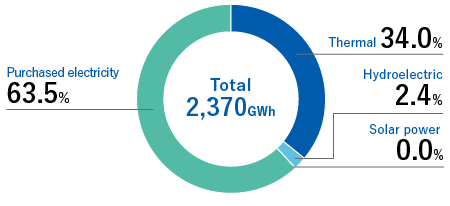 Electricity sources, FY2018
*

Using Japan's Ministry of Economy, Trade and Industry and Ministry of the Environment standard of 587g CO2/kWh.
Energy saving in logistics
Our company promotes environmentally friendly railway shipment.
Product shipments for Asahi Kasei Group operations in Japan amounted to some 1.3 billion ton-kilometers in fiscal 2018―a 3% increase from fiscal 2017―generating approximately 100 thousand tons of CO2 emissions―a 1% increase. In cooperation with the transport firms contracted for shipment, a wide range of measures are employed to reduce energy consumption and alleviate the environmental effects of physical distribution.
Asahi Kasei has received Eco-Rail Mark certification in recognition of our preferential shipment of products by rail, an ecological mode of transport which results in lower CO2 emissions for a given weight and distance than many other means of transportation.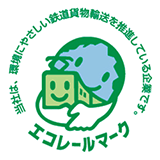 The Eco-Rail Mark
Promotion of low emission vehicles
The Asahi Kasei Group is phasing in low-pollution vehicles for use in marketing and within plant grounds. In fiscal 2018, some 85% of company-owned vehicles were low-pollution vehicles.