Occupational Health and Safety
Policy
While business is operated globally, the structure of society is changing dramatically. The population continues to age, and the way of hiring people as well as working styles are changing in various ways. In this time of change, it's necessary to ensure a comfortable and safe workplace environment for all employees, working to maintain good health in mind and body and enabling them to make the most of their capabilities and possibilities.
The Asahi Kasei Group regards all employees as precious assets. Our RC Principles state: "We give the utmost consideration to environmental protection, quality assurance, operational safety, workplace safety and hygiene, and health maintenance, throughout the product life cycle from R&D to disposal, as preeminent management tasks in all operations." Based on this, in cooperation with employees, we strive for a comfortable workplace environment throughout the company. We also implement various measures to support employees in maintaining and advancing their mental and physical well-being in accordance with our health management guidelines, including screening for lifestyle-related diseases and mental health checkups.
Management framework
The Asahi Kasei Group has worker health and safety committees in the various areas it operates which monitor employees' health and safety at work. The committees meet monthly to improve the standard of occupational health. Each workplace has its own system to prioritize the safety of employees and other workers, employing a policy and targets. In fiscal 2013 we began full implementation of an internet-based electronic diagnosis system to survey the stress level of individual employees as part of our effort for health care.
Labor and management work together to address issues related to employee health by exchanging relevant ideas with the labor union at meetings of the health and safety committee and various labor-management meetings.
Preventive action for occupational accidents
The effort to prevent workplace accidents is integrated in our comprehensive OHSMS*1 program that combines conventional safety initiatives*2 with risk assessments and a prevention-oriented plan-do-check-act (PDCA) system.
In fiscal 2002, we began applying OHSMS in accordance with OHSAS 18001 standards. We have continued to implement OHSAS at over 90% of all plants and other facilities since fiscal 2009.
*1

Occupational Health and Safety Management System: A standardized management system used to confirm that continuous improvement is being applied to measures to minimize the risks of workplace injuries and to prevent the emergence of future risks

*2

Tidiness/orderliness/cleanliness (3S), reporting of near-accidents and potential hazards, hazard prediction analysis, safety patrols, and case studies
Approach to prevent occupational accidents
Identification of potential hazards
Effective prevention of workplace accidents requires the identification of all potential hazards in a workplace. In addition to conventional safety initiatives, it is important to consider safety from the perspective of the problems which conceivably arise in a wide variety of situations—as a result of both potentially unsafe physical conditions (hazardous working environment due to equipment, materials, noise, etc.) and potentially unsafe actions of personnel.
Risk assessment
Priority for mitigating the potential workplace hazards identified is assigned based on a scoring system that combines the severity of the impact of problems which could occur and the frequency with which such problems would be likely to occur.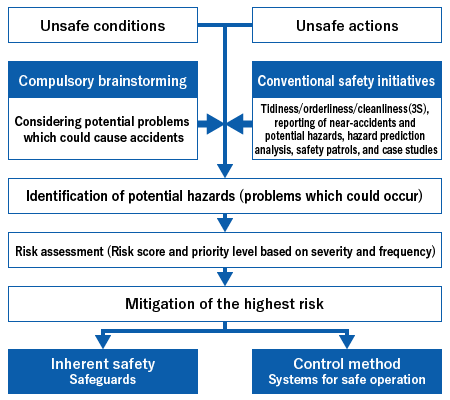 Schematic image for prevention of workplace accidents
Mitigation of the highest risks
Measures to achieve inherent safety by eliminating unsafe conditions (by eliminating dangerous procedures, automation, eliminating sources of problems, changeover to safe materials, etc.) and the application of safeguards are extremely effective in the effort to avoid risks. We focus on achieving inherent safety and applying safeguards (isolation and stoppage) to avoid risks associated with the use of machinery and equipment to prevent the "caught in/between machinery" category of accident, which can easily result in severe injury.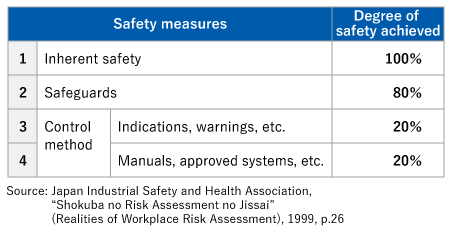 Formulation of safety measures
Inherent safety and safeguards
Measures to achieve inherent safety and the application of safeguards to avoid risks are generally considered to provide the greatest level of safety, as shown in the following table. We incorporate such measures in the construction of new or replacement facilities, upon safety reviews of existing facilities, and to prevent the recurrence of accidents.
Systems for safe operation
The Asahi Kasei Group reduces risks through compliance with safe operating standards* and employs a range of creative measures to ensure that safe operating standards are observed from day to day. Operations for which the elimination of risk through equipment modification is impractical are classified as operations requiring special control and strictly managed as such.
*

Rather than individual rules for specific procedures, safe operating standards are a system of safety principles which define common safety practices that apply to categories of operation based on similarity of risk. For example, to prevent entanglement in machinery, our standard stipulates not to touch any exposed moving parts.
Sharing and utilizing information of occupational accidents
We investigate causes and take measures to prevent recurrence at sites where workplace accidents occur. We share a database of information on all workplace accidents within the Asahi Kasei Group for utilization in activities such as safety training, case study discussions, and prevention of similar accidents.
Occupational accident statistics
In fiscal 2019, 25 lost-workday injuries occurred involving Group employees in Japan. Of these, one serious accident*1 occurred as a result of a Group employee in Japan being caught in/between machinery.
While we had previously concentrated efforts on preventing such accidents, this case led us to implement thorough measures to prevent recurrence with similar equipment, reducing risk even further by promoting safety and introducing protective measures.
When we classify the 25 lost workdays by accident type, we see many of the accidents were due to "fall from height." While fortunately there were no serious incidents, as such falls are highly likely to result in serious injuries, we are developing activities that will help prevent them, especially where work is performed in high places.
In terms of recent trends, severe injuries are more likely to occur during irregular tasks which are only performed once every year or two. For the assessment of risks based on severity and frequency, we will prioritize measures to enhance the safety of tasks which, no matter how low their frequency scores, are likely to cause severe injury in the unlikely event that an accident does occur.
We also formulated a set of guidelines on machinery safety in accordance with ISO 12100*2 and in fiscal 2014 began machinery risk assessments by designers in the case of building new equipment or modifying existing equipment, with deliberation among related parties as part of the equipment inspection.
Meanwhile, the category of "fall on same level" accounted for 28% of lost-workday injuries. Many of these incidents occurred during day-to-day activities, including in the office and while out on errands, etc. To prevent these common accidents, we are promoting safety activities such as basic safety compliance in both production and non-production workplaces and renewing our emphasis on a culture of safety company-wide.
*1

Serious accident

Refers to accidents resulting in death or lasting injury

*2

ISO 12100

ISO 12100 specifies principles for achieving safety in machinery design and principles of risk assessment and risk reduction
*1

Number of accidental deaths and injuries resulting in the loss of one or more workdays, per million man-hours worked. Our goal of 0.1 or less is extremely ambitious. At a plant with 100 workers, it would mean only one worker in 50 years suffered from a workplace injury which resulted in a day off.

*2

Lost workdays, severity-weighted, per thousand man-hours worked.
Maintaining and improving comfortable workplaces
Workplaces where potential health hazards are present are subject to regular monitoring under the Working Environment Measurement Law. Additionally, risk management of chemicals is implemented to reduce risks due to chemical substances.
Noise and heat exposure data are recorded and maintained for all relevant personnel to enable each individual's exposure to be managed and minimized. We are advancing plant modification and reviewing work procedures to reduce exposure to noise and heat.
Safety Activities at the Oita Works of Asahi Kasei Medical MT Corp.
1. Introduction
Asahi Kasei Medical MT Corp. (AMMT) was established in October 2013 as a Group company belonging to Asahi Kasei Medical Co., Ltd. It develops and manufactures medical devices and components based on unique membrane separation and adsorption technologies, supporting people's lives worldwide.
AMMT has major production sites in both Oita and Nobeoka, with some 1,600 employees. The Oita site takes our commitment to safety very seriously, and even received an Excellent Workplace Encouragement Award for health and safety in fiscal 2018 from the Oita Labor Bureau.
2. Key points of safety activities at the Oita site
The Oita site consists of 4 plants: the Artificial Kidney Plant, Apheresis Device Plant, Sepacell Plant, and Planova Oita Plant. There are also 2 technical development departments and shared facilities. All employees at every workplace participate in activities with mottos of "Promoting positive QMS and RC activities" and "Practicing the three actuals."
The Oita Environment and Safety Department and the various plants work together on the following programs: Basic Safety Precautions to Prevent Accidents in Daily Life; Traffic Safety; Mental Health Programs for a Better Workplace Environment; Thorough Risk Assessment (Change Control); and, to prevent serious injuries, No More Getting Caught In or Between Machinery; and Completely Preventing Heat Stroke.
Mental health programs are especially focused on meticulous ongoing care, as part of the health promotion activities throughout the site. The results in promoting the mental and physical health of employees has attracted attention as a model case within the Asahi Kasei Group. The Oita site is also actively engaged in RC activities that focus on ties with the local community, with employees and their families joining in clean-up campaigns in the area around the site.
3. Future initiatives
In addition to ongoing programs, the site is steadily promoting safety related activities like teaching best practices for handling equipment and eliminating the causes of occupational accidents, emphasizing safety as the highest priority. Site leaders consider it important to express their strong feelings concerning safety, and for leaders at all levels to be sincere in their dealings with their subordinates. The aim is to create a workplace where all personnel can be proud of their workplace and enjoy their jobs.
Dealing with the asbestos issue
Asahi Kasei has dealt with the asbestos issue as explained below.
| | |
| --- | --- |
| | Specific Measures |
| Measures for buildings owned by the Asahi Kasei Group, including its plants | Conducted asbestos surveys and systematically removed, contained, or enclosed it in accordance with the Ordinance on Prevention of Health Impairment Due to Asbestos. |
| Replacement of asbestos in plant joint seals | Asbestos in joint seals is replaced with non-asbestos materials sequentially when joints are opened for inspection or maintenance. |
| Responding to health issues of Asahi Kasei Group retirees | The Group does not engage in the production or handling of asbestos as specified in the Ordinance on Prevention of Health Impairment Due to Asbestos. However, if a retiree who had handled asbestos on a temporary basis during his or her tenure with the Group (for maintenance purposes for example) requests it, he or she can receive a medical examination and a follow-up will be conducted. |
Developments in health management
The employee health landscape has altered dramatically in recent years with an ageing workforce and increased stress from changes in the business and social environment. At the same time, for the Group to provide value to society through its business, we need employees to be more productive and creative than ever.
That is why the Group promotes health management and related initiatives as a company-wide management issue, helping to develop it in our ongoing Responsible Care activities for the success and growth of each employee and to improve productivity.
Concrete examples include the establishment of our Corporate Health Care Promotion Center in January 2020 and the assignment of an Executive Officer for health and productivity management and an Executive Officer with deputy oversight of health and productivity management in February 2020. These responsibilities are held by Vice President Shigeki Takayama and Executive Officer for HR Senior Executive Officer Soichiro Hashizume, respectively.
Establishing a health management vision and publicizing our Health Management Declaration both in-house and publicly, we aim to improve productivity by increasing employee job satisfaction, revitalizing individuals and organizations, and creating a vibrant and energetic organizational culture, contributing to a sustainable society and a sustainable increase in the Asahi Kasei Group's corporate value.
In addition to the above, we will continue to work on our health management goals, a system to promote them, and various initiatives with a view to full-scale implementation in fiscal 2021.
Health management for employees
Asahi Kasei Group has provided employees with healthcare guidance including preventive measures for lifestyle diseases and mental health enrichment by health maintenance staff in each site.
Additionally, we have promoted the use of our health improvement program, a tool for health management that was revised to enable easier use of specified health guidance. This program is especially useful for the maintenance and improvement of employees' health at independent plants where on-site health care staff is limited, and also as an outside resource for affiliated companies.
In fiscal 2019, the results of annual checkups indicated that the proportion of employees with health warning signs was the same, the ratio of employees with obesity slightly increased, and employees who smoke slightly decreased compared with the previous fiscal year.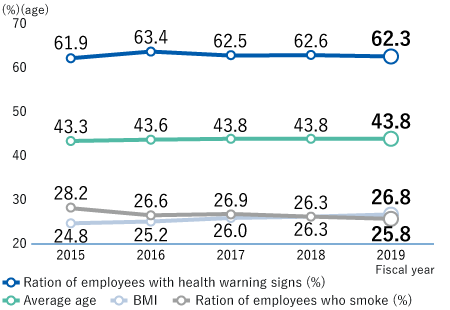 Ratio of employees with health warning signs
Mental health and care
The Asahi Kasei Group is working to improve the workplace environment by enhancing its four complimentary approaches to care in accordance with its mental health care guidelines.
For self-care by individual employees and care by industrial medical staff, in fiscal 2013 we began full implementation of an intranet-based electronic diagnosis system developed by Fujitsu Software Technologies Ltd. In addition to surveying the stress level of individual employees, this system analyzes workplace stress to help improve the workplace environment as part of our effort for care by line of authority, including various programs tailored to each location such as health check sheets (in Nobeoka), ensuring a vibrant workplace environment with participation of all members (in Mizushima), improving the workplace safety by utilizing MIRROR* (in Fuji).
A provision for shortened working days is available for personnel returning from leave of absence for psychiatric convalescence as well as for any other injury or illness, enabling a gradual recovery of a full work load. At each plant site and office location, we provide care by specialists, including training sessions by external lecturers and referral of counseling services.
*

MIRROR

A tool for improving the work environment. Learning about and discussing the most desirable workplace.
Analysis of direct factors and circumstances resulting in leave of absence for mental health
There are multiple and complicated factors that cause employees to take leave of absence for mental health, including workplace-related issues, physical health problems, employees' approach to work, and issues in their private lives, as well as various circumstances such as changes in work duties, moves to different departments, or family problems. We analyzed the causes leading to leave of absence from the standpoint of occupational health staff using an analytical tool to categorize the stress factors of employees taking leave of absence for mental health reasons in order to identify the causes of unhealthy mental states and find out the tendencies and characteristics which would enable effective measures to reduce the number of employees who take leave of absence.
By inputting contribution ratios related to direct factors and background based on interview results, the tendencies are collated and visualized through graphs by site. Results from each site are also aggregated, with company-wide data analyzed according to various aspects such as job category and position which are then shared throughout the company.
Measures for employees stationed overseas
The Asahi Kasei Group is enhancing health management support for employees stationed overseas, which are increasing with the globalization of business.
In addition to providing such employees with annual medical check-ups, we perform a survey using a check-sheet regarding subjective symptoms, lifestyle issues, and stress factors, followed by online interviews via Skype or Teams as needed. Furthermore, interviews by industrial physicians are performed if the employees appear to be working excessive hours based on the time they are logged in to their computers.
All employees on overseas assignment, including those in Europe and the United States, are interviewed by an industrial physician via an online conferencing system six months after their assignment commences. This program started in 2018.
Cancer seminar for employees (Tokyo Health Management Office)
We also conduct a cancer seminar series, which focused on breast cancer in 2017 and colorectal cancer in 2018. In 2019 we held a general cancer seminar entitled "Recommendations for Cancer Screening" with Dr. Keiichi Nakagawa, Associate Professor of Radiology at the University of Tokyo Hospital. The well-known professor quickly drew more applicants than there were openings for the lecture, indicating a high level of interest in the topic of cancer.
Dr. Nakagawa's very clear and interesting talk also related his own experiences. Questionnaires handed out after confirmed that participants had understood the message of cancer screening's importance, and we expect this will lead to higher screening rates.
In addition, the Tokyo Headquarters of Asahi Kasei Corporation is working to raise the screening rate through participation in the Corporate Action Program for Cancer Prevention, for which Dr. Nakagawa is a committee member.