Occupational Health and Safety
Policy
While business is operated globally, the structure of society is changing dramatically. The population continues to age, and the way of hiring people as well as working styles are changing. In this time of change, the Asahi Kasei Group recognizes the importance of ensuring comfortable and safe workplace environments for all employees to maintain good health in mind and body, enabling them to make the most of their capabilities and possibilities.
The Asahi Kasei Group regards all employees as precious assets. Our RC Principles state: "We give the utmost consideration to environmental protection, quality assurance, operational safety, workplace safety and hygiene, and health maintenance, throughout the product life cycle from R&D to disposal, as preeminent management tasks in all operations." In cooperation with employees, we strive for a comfortable workplace environment throughout the company. We also implement various measures to support employees in maintaining and advancing their mental and physical well-being in accordance with our health management guidelines, including screening for lifestyle-related diseases and mental health checkups.
Management framework
The Asahi Kasei Group has worker health and safety committees which monitor employees' health and safety at work. The committees meet monthly to improve the standard of occupational health. Each workplace has its own system to prioritize the safety of employees and other workers through a policy and targets. In fiscal 2013 we began full implementation of an internet-based electronic diagnosis system to survey the stress level of individual employees as part of our effort for health care.
Preventive action for occupational accidents
The effort to prevent workplace accidents is integrated in our comprehensive OHSMS*1 program that combines conventional safety initiatives*2 with risk assessments and a prevention-oriented plan-do-check-act (PDCA) system.
In fiscal 2002, we began applying OHSMS in accordance with OHSAS 18001 standards. In fiscal 2009, OHSMS was implemented at 90% of all plants and laboratories.
*1

Occupational Health and Safety Management System:A standardized management system used to confirm that continuous improvement is being applied to measures to minimize the risks of workplace injuries and to prevent the emergence of future risks

*2

Tidiness/orderliness/cleanliness (3S), reporting of near-accidents and potential hazards, hazard prediction analysis, safety patrols, and case studies
Approach to prevent occupational accidents
Identification of potential hazards
Effective prevention of workplace accidents requires the identification of all potential hazards in a workplace. In addition to conventional safety initiatives, it is important to consider safety from the perspective of the problems which conceivably arise in a wide variety of situations—as a result of both potentially unsafe physical conditions (hazardous working environment due to equipment, materials, noise, etc.) and potentially unsafe actions of personnel.
Risk assessment
Priority for mitigating the potential workplace hazards identified is assigned based on a scoring system that combines the severity of the impact of problems which could occur and the frequency with which such problems would be likely to occur.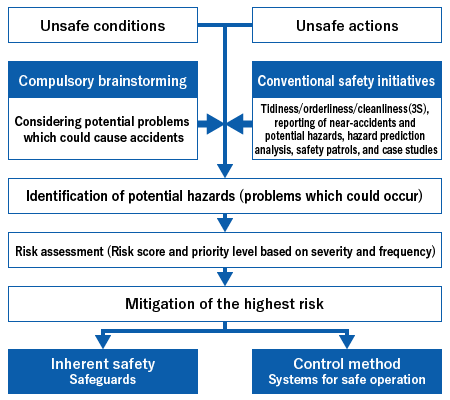 Schematic image for prevention of workplace accidents
Mitigation of the highest risks
Measures to achieve inherent safety by eliminating unsafe conditions (by eliminating dangerous procedures, automation, eliminating sources of problems, changeover to safe materials, etc.) and the application of safeguards are extremely effective in the effort to avoid risks. We focus on achieving inherent safety and applying safeguards (isolation and stoppage) to avoid risks associated with the use of machinery and equipment to prevent the "caught in/between machinery" category of accident, which can easily result in severe injury.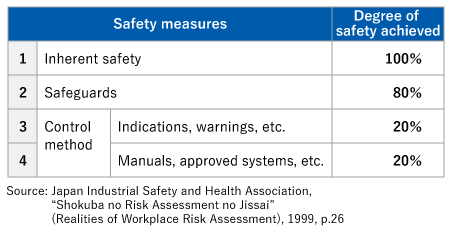 Formulation of safety measures
Inherent safety and safeguards
Measures to achieve inherent safety and the application of safeguards to avoid risks are generally considered to provide the greatest level of safety, as shown in the following table. We incorporate such measures in the construction of new or replacement facilities, upon safety reviews of existing facilities, and to prevent the recurrence of accidents.
Systems for safe operation
Operations for which the elimination of risks through equipment modification is impractical are classified as operations requiring special control. In such cases, risks are reduced through compliance with safe operating standards*. In addition to double-checking that proper procedures are followed, a range of creative measures are employed to ensure that safe operating standards are observed from day to day.
*

Rather than individual rules for specific procedures, safe operating standards are a system of safety principles which define common safety practices that apply to categories of operation based on similarity of risk. For example, to prevent entanglement in machinery, our standard stipulates not to touch any exposed moving parts.
Sharing and utilizing information of occupational accidents
We investigate causes and take measures to prevent recurrence at sites where workplace accidents occur. We share information on all workplace accidents within the Asahi Kasei Group for utilization in activities such as safety training, case study discussions, and prevention of similar accidents.
Occupational accident statistics
In fiscal 2018, 23 lost-workday injuries occurred involving Group employees in Japan. There were no serious accidents1 involving Group employees in Japan, but there was one serious accident due to heatstroke at an affiliated company.
Classifying the 23 lost-workday injuries by type of accident, there was one injury in the "caught in/between machinery" category, which we have been striving to eliminate. Learning from this accident, we will reduce the risks even further by eliminating sources of danger and enhancing safeguards.
In terms of recent trends, severe injuries are more likely to occur during irregular tasks which are only performed once every year or two. For the assessment of risks based on severity and frequency, we will prioritize measures to enhance the safety of tasks which, no matter how low their frequency scores, are likely to cause severe injury in the unlikely event that an accident does occur.
We also formulated a set of guidelines on machinery safety in accordance with ISO121002 and in fiscal 2014 began machinery risk assessments by designers in the case of building new equipment or modifying existing equipment, with deliberation among related parties as part of the equipment inspection.
Meanwhile, the category of fall accounted for 44% of lost-workday injuries. To prevent these common accidents that could occur even in non-factory workplaces such as sales offices or headquarters, we are promoting safety activities in all workplaces such as basic safety compliance and renewing our emphasis on a culture of safety.
1Accidents resulting in death or lasting injury
2ISO12100 specifies principles for achieving safety in machinery design and principles of risk assessment and risk reduction
*1

Number of accidental deaths and injuries resulting in the loss of one or more workdays, per million man-hours worked. Our goal of 0.1 or less is extremely ambitious. At a plant with 100 workers, it would mean only one worker in 50 years suffered from a workplace injury which resulted in a day off.

*2

Lost workdays, severity-weighted, per thousand man-hours worked.
Maintaining and improving comfortable workplaces
Workplaces where potential health hazards are present are subject to regular monitoring under the Working Environment Measurement Law. Additionally, risk management of chemicals is implemented to reduce risks due to chemical substances.
Noise and heat exposure data are recorded and maintained for all relevant personnel to enable each individual's exposure to be managed and minimized. We are advancing plant modification and reviewing work procedures to reduce exposure to noise and heat.
Safety activities at Tomobe Plant of Asahi Kasei Metals Corp.
1.Objectives and results
As a plant that produces aluminum paste, a raw material for paints with a metallic sheen such as those used on metallic-colored cars, the Tomobe Plant contributes to business in the automotive and home electronics paint and ink applications sectors. In fiscal 2019, the plant received the JCIA Special Award for Safety Excellence having achieved an accident-free record for 30 years.
Meanwhile, although the plant has maintained zero lost-workday injuries over many years, injuries with no lost workdays and emergencies have occurred at a certain frequency over the period, and there are also facility improvements that need to be made.
Therefore, based on the conviction that "all accidents can be prevented," the plant has been working on the safety activities described below to further enhance tangible and intangible aspects of an inherently safe workplace with the aim of achieving inherent safety.
2.Overview of activities
The Tomobe Plant works on safety activities from the twin perspectives of operational safety and industrial safety.
From the perspective of operational safety, the risks due to dust explosions caused by aluminum powder, etc. and explosion and fire caused by organic solvents are reviewed by different assessors than previously to create cycles for taking countermeasures for newly identified risks in efforts to prevent operational accidents and associated injuries.
Activities from the industrial safety perspective are based on the following three pillars.
(1)

The plant identified minor near accidents and works to enhance follow up and pre-work hazard detection through "Tomobe Ohaba Kaizen" activities (TOK activities).

(2)

The plant conducts industrial safety risk assessments as part of the OHSMS activities introduced in 2002 and works to alleviate risk by identifying issues and taking countermeasures.

(3)

All employees take part in identifying problem areas on-site, examining improvement strategies, and achieving countermeasures from an on-site perspective through vigorous small group activities that have been running for 10 years.
Integrating the three pillars of industrial safety activities, we strive every day with the idea that the mission of managers is to work constantly to create activities that are effective while reducing the sense of burden on-site.
3.Future initiatives
Going forward, the plant will continue strenuously developing the current activities toward the goal of "preventing all accidents." It will also continue to engage in safety activities aimed at two action goals, which are strengthening equipment safety, defined as further improving equipment in order to keep people separated from moving parts, high temperature parts, hazardous substances, etc., for intrinsic safety, and developing hazard prediction, defined as upgrading hazard prediction through risk assessment in order to perform pre-work hazard prediction certainly and appropriately.
Health management for employees
Asahi Kasei Group has provided employees with healthcare guidance including preventive measures for lifestyle diseases and mental health enrichment by health maintenance staff in each site.
Additionally, we have promoted the use of our health improvement program, a tool for health management that was revised to enable easier use of specified health guidance. This program is especially useful for the maintenance and improvement of employees' health at independent plants where on-site health care staff is limited, and also as an outside resource for affiliated companies.
In fiscal 2018, the results of annual checkups indicated that the proportion of employees with health warning signs was the same, the ratio of employees with obesity slightly increased, and employees who smoke slightly decreased.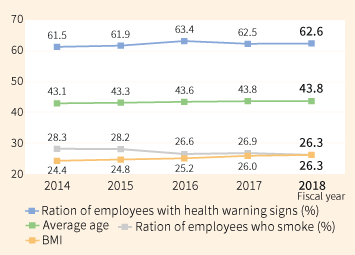 Ratio of employees with health warning signs
Mental health and care
The Asahi Kasei Group is working to improve the workplace environment by enhancing its four complimentary approaches to care in accordance with its mental health care guidelines.
For self-care by individual employees and care by industrial medical staff, in fiscal 2013 we began full implementation of an intranet-based electronic diagnosis system developed by Fujitsu Software Technologies Ltd. In addition to surveying the stress level of individual employees, this system analyzes workplace stress to help improve the workplace environment as part of our effort for care by line of authority, including various programs tailored to each location such as health check sheets (in Nobeoka), ensuring a vibrant workplace environment with participation of all members (in Mizushima), improving the workplace safety by utilizing MIRROR (in Fuji).
A provision for shortened working days is available for personnel returning from leave of absence for psychiatric convalescence as well as for any other injury or illness, enabling a gradual recovery of a full work load. At each plant site and office location, we provide care by specialists, including training sessions by external lecturers and referral of counseling services.
Analysis of direct factors and circumstances resulting in leave of absence for mental health
There are multiple and complicated factors that cause employees to take leave of absence for mental health, including workplace-related issues, physical health problems, employees' approach to work, and issues in their private lives, as well as various circumstances such as changes in work duties, moves to different departments, or family problems. We analyzed the causes leading to leave of absence from the standpoint of occupational health staff using an analytical tool to categorize the stress factors of employees taking leave of absence for mental health reasons in order to identify the causes of unhealthy mental states and find out the tendencies and characteristics which would enable effective measures to reduce the number of employees who take leave of absence.
By inputting contribution ratios related to direct factors and background based on interview results, the tendencies are collated and visualized through graphs by site. Results from each site are also aggregated, with company-wide data analyzed according to various aspects such as job category and position which are then shared throughout the company.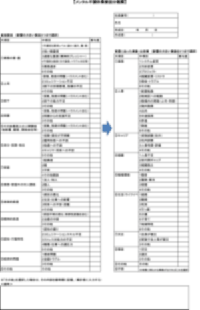 Categorization of factors resulting in leave of absence for mental health
Measures for employees stationed overseas
The Asahi Kasei Group is enhancing health management support for employees stationed overseas, which are increasing with the globalization of business.
In addition to providing such employees with annual medical check-ups, we perform a survey using a check-sheet regarding subjective symptoms, lifestyle issues, and stress factors, followed by interviews via internet videoconference as needed. Furthermore, interviews by industrial physicians are performed if the employees appear to be working excessive hours based on the time they are logged in to their computers.
Up to fiscal 2017, we had industrial physicians visit each of our sites in Asia on a two-year cycle for face-to-face interviews with stationed employees, as well as observation of their residential environments and available medical services. Beginning in fiscal 2018, we are providing interviews by industrial physicians via internet videoconference for employees stationed overseas in all regions including Europe and the Americas between six months and a year after their assignment. As needed, we also have industrial physicians perform observations of available medical services and onsite interviews.
Bowel cancer seminar for employees (Tokyo Health Management Office)
Today, one in every two people will suffer from cancer, and "cancer and work" has been a hot topic in occupational health recently. In 2018, we held a seminar on Bowel Cancer and the Importance of Post-screening Follow Up for employees with Dr. Yasumoto Suzuki from Matsushima Clinic as the instructor. Nearly 100 participants in the seminar listened enthusiastically to Dr. Suzuki's passionately frank discussion. There were many questions afterwards, indicating the high level of interest in bowel cancer.
A simple and non-invasive screening test called the fecal occult blood test is available for bowel cancer. There is also scientific evidence that the test reduces the cancer mortality rate, but the screening rate in the Tokyo Health Management Office jurisdiction is only 70%. The seminar is expected to trigger an increase in the screening rate.