Policy
The Asahi Kasei Group works to honor and respect the local culture of each community where our operations are based, and to maintain effective dialog and communication with community members. Through networking events, plant tours, and fellowship activities, we enhance understanding of our company among the communities where we are located and receive valuable opinions regarding the management of our operations.
Management framework
Administrative departments at the Group's manufacturing sites lead communication with the communities around our plants, holding periodic networking events, plant tours, and other activities.
Plant tours
We offer plant tours to provide better understanding of our operations and the measures we implement for the environment and safety. (Tours are not available at all plants.)
Dialog and interaction
At each of the Group's main production sites, we engage in dialog and interaction that includes discussion with local residents through bodies such as local governments, providing public access to our facilities such as sports halls and grounds and parking lots, and holding events.
NPO supporting education of the next generation
In 2009, some interested members from the Asahi Kasei retirees association formed "Hagemashitai" (Encouragers), a volunteer group for providing support with schoolwork, and began providing help with math and science schoolwork to junior high school students in Nobeoka, Miyazaki Prefecture. In 2012, Hagemashitai was incorporated as an NPO and is expanding in size and continuing its activities still today. Asahi Kasei supports the NPO.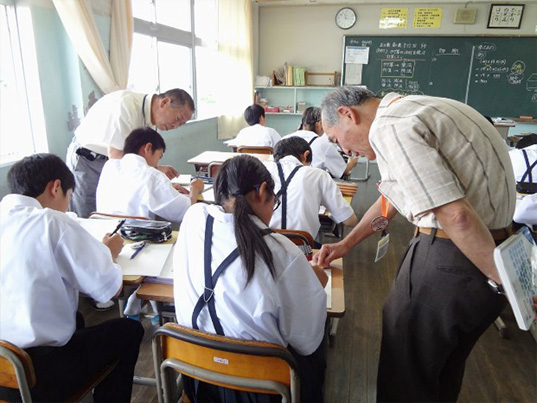 Asahi Kasei retirees volunteer to help students as an NPO activity
Policy
The Asahi Kasei Group is involved in a wide range of community-focused activities under the following Community Fellowship Policy to fulfill our responsibilities as a corporate citizen. We strive for mutual prosperity with the local communities and stakeholders focused on the three themes of Nurturing the Next Generation, Coexistence with the Environment, and Promotion of Culture, Art, and Sports.
1.

Effective utilization of our human resources and technologies to advance community fellowship based on the unique characteristics of the Asahi Kasei Group.

2.

Striving for meaningful community fellowship actions with a constant awareness of our objectives and effectiveness.

3.

Supporting and nurturing participation in community fellowship by employees, encouraging volunteerism and individual initiative.
Management framework
The Asahi Kasei Group has a Community Fellowship Committee chaired by a member of the Board of Directors. The Committee is convened several times a year as necessary to review and enhance our community fellowship activities.
Value of community fellowship activities
The Asahi Kasei Group supports the active participation of employees in community fellowship activities. In addition, we participate in the One-Percent Club of the Keidanren (Japan Business Federation), and convert our social contribution activities into monetary value by a method set forth in its annual Survey of Expenditure for Corporate Philanthropic Activities. The total value of our donations in fiscal 2017 (including community investments) was ¥1,303.92 million.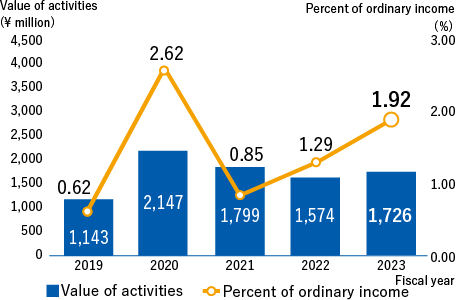 Value of community fellowship activities
Nurturing the Next Generation
School visits and science lab for students
To promote understanding and heighten interest in science and technology among elementary, junior high, and high school students, we visit schools and host visits by students at our plants to give explanations and demonstrations of science and technology and on environmental issues. We also support career development with occupational lectures and problem-solving training, and host visits by students to our offices.
In fiscal 2018, a total of 2,641 students from 75 schools participated.
Holding exhibits and sponsoring science-related events
The Asahi Kasei Group provides sponsorship for science and chemistry-related events that give children and their parents an opportunity to learn about science and chemistry in an enjoyable way.
We also continued to sponsor the Japan Science and Technology Agency's high-school chemistry tournament, which began in fiscal 2011. In fiscal 2018, 361 representative high school students from each of Japan's 47 prefectures competed in chemistry knowledge and skills. We presented the Asahi Kasei Award, recognizing the school that had the best teamwork, to Namiki Secondary School from Ibaraki Prefecture.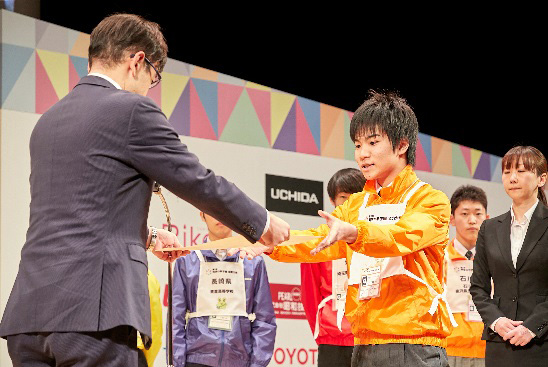 The award ceremony at the high-school chemistry tournament in Saitama
Miraikan corporate partnership
Since fiscal 2008, the Asahi Kasei Group has been a corporate partner of the National Museum of Emerging Science and Innovation (Miraikan) led by scientist and former astronaut Dr. Mamoru Mohri. As a corporate partner, we work together with Miraikan to help cultivate interest in science and technology among children and other visitors.
Under this partnership, we have exhibited at exhibitions held by the Miraikan, provided products for use in demonstrations, and participated in various events.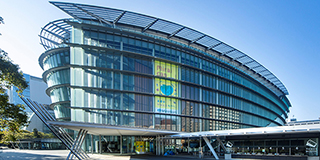 The National Museum of Emerging Science and Innovation (Miraikan)
Sponsoring educational programs on science and the environment by newspaper companies
The Asahi Kasei Group sponsors educational events organized by newspaper companies that provide children with an opportunity to learn about science and the environment.
Supporting the Japan Student Science Awards
The Asahi Kasei Group was again the sole sponsor of The Yomiuri Shimbun newspaper's Japan Student Science Awards for fiscal 2018, including the Asahi Kasei Award, which are given in recognition of outstanding study of science at junior high schools and high schools.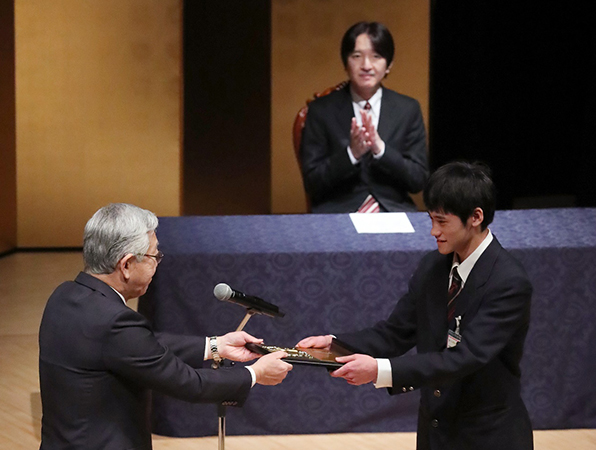 Asahi Kasei President Hideki Kobori presenting the Asahi Kasei Award at the Japan Student Science Awards in Tokyo
Planet Earth Classroom
We again provided sponsorship in fiscal 2018 for "Planet Earth Classroom," a series of environmentally themed events for elementary school students planned and managed by the Asahi Shimbun newspaper. We supported the events by editing an environmental study textbook for distribution to some 2,400 elementary schools and other educational institutions nationwide (215 thousand copies distributed), giving lectures focused on energy conservation at elementary schools, and dispatching personnel as instructors for environmental study events for families.
Supporting young women in science and technology careers
In support of a national campaign to encourage young women to pursue careers in science and technology, we held an event for female high school students who are interested in such careers. The campaign led by Japanese government agencies and supported by the Keidanren aims to inform young women of career options in science and technology and support them in pursuing careers in these fields. Asahi Kasei endorses the objectives of this campaign, and participated from the beginning.
On August 23, 2018, we held a laboratory tour at our research complex in Fuji, Shizuoka Prefecture, together with informal discussion with our female researchers, under the title "Knowing and connecting with women in science and technology careers." The event was attended by 65 female high school students from the Tokyo metropolitan area, Shizuoka Prefecture, and Aichi Prefecture.
The event was divided into two programs: "Science and analysis careers" and "Housing-related careers" with tours of the Platform Laboratory for Science & Technology and the Housing R&D Center respectively. All of the female high school students had the opportunity to take part in programs using the research facilities, including the operation of advanced research equipment, to experience analysis technology and the experience of proof-of-concept testing at a large research facility that contains a complete house. The students also had informal discussions with female researchers and managers during group meetings.
Scholarship program
The Asahi Kasei Group established a scholarship program to help foster talent that will contribute to the advancement of science and technology in new fields.
Applications are taken from students in masters courses, doctoral courses, and 6-year university courses specializing in chemistry, chemical engineering, mechanical engineering, civil engineering, architecture, control engineering, electrical engineering, electronics, high-current electricity, physics, IT, biology, pharmacology, agricultural science, medical science, and veterinary science.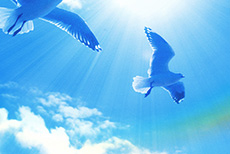 Coexistence with the Environment
Tree-planting at Asahi Forest in Miyazaki
On May 11, 2019, Asahi Kasei planted trees at the Asahi Forest of Hayahi Ridge in Nobeoka as part of a reforestation program organized by Miyazaki Prefecture. This was the 8th year of the project which aims to regenerate a broad-leaf forest where cedar and cypress had been cultivated previously. A total of 448 people including Asahi Kasei Group employees, retirees, and local residents participated in the program, planting some 1,500 trees such as wild cherry, wild chestnut, and maple over a 1 hectare area.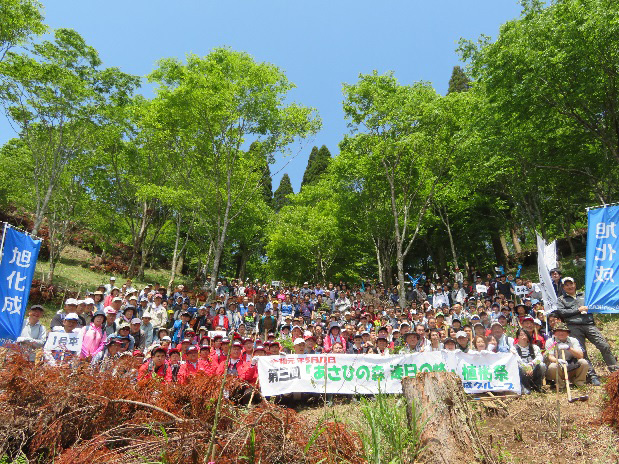 Exhibiting at Biwako Business Messe 2018
Over three days from October 17–19, 2018, the Asahi Kasei Group exhibited at "Biwako Business Messe 2018," an environmental business exhibition in Nagahama, Shiga Prefecture, organized by Shiga Keizai Sangyo Association, Shiga Prefecture, and others. The exhibition was attended by many businesspeople and others with an interest in environmental measures.
Our exhibit was themed on environmental solutions of the Asahi Kasei Group, showcasing products and system technologies that attracted the attention of visitors such as oil leak detectors, a system using speech recognition to raise the efficiency of inspection work, and equipment to diagnose the aging of electrical equipment. We also exhibited the activities of our Moriyama Works in the "Mission 79 Dragonfly" project to preserve biodiversity, showcasing our contribution to "Harmony with the natural environment" which is part of our Group Vision.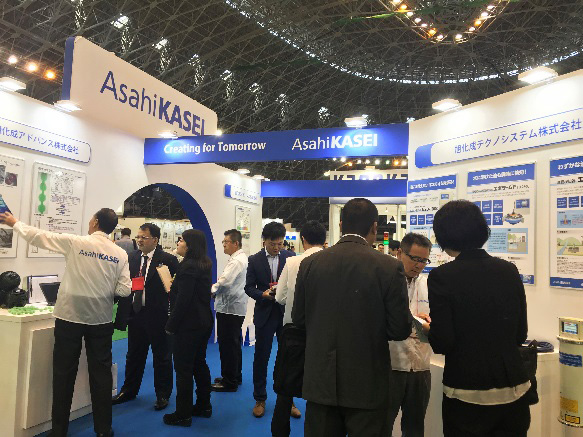 The Asahi Kasei Group exhibit at Biwako Business Messe 2018
Promotion of Culture, Art, and Sports
Corporate sports activities
Asahi Kasei has long supported athletic activity and maintains top-tier distance running and judo teams, with employees having competed in the Olympics nearly 50 times over the years. Our support for sports and athletics also includes sponsorship of the Golden Games in Nobeoka, a notable long-distance track competition in Japan, and provision of running and judo lessons for local students by members of our corporate distance running and judo teams.
On February 25, 2019, we held a judo workshop in Dusseldorf, Germany. Four members of our judo team served as instructors for local elementary school students and experienced judo enthusiasts. The time spent in contact with children through these kinds of community fellowship activities was a valuable opportunity for our athletes to recharge and deepen interaction with the community.
Asahi Kasei Himuka Cultural Foundation
The Asahi Kasei Himuka Cultural Foundation was established in 1985 to enrich the environment of day-to-day life and culture in Miyazaki Prefecture, the cradle of Asahi Kasei. A wide range of cultural activities include musical and dramatic events, support for local cultural promotion, and fostering familiarity with and understanding of folk culture.
In fiscal 2018, the foundation sponsored a performance of "Majorin Who Threw Away Magic," a family musical by the Shiki Theater Company. With children from special-needs schools invited free-of-charge, the performance was packed with excitement from start to finish.
The foundation also cosponsored two art appreciation bus tours. The first tour was for a special program at the Miyazaki International Music Festival provided by the foundation and Asahi Kasei Group for the performance of "After the Dream – The Spirit of French Music" by violinist Fumiaki Miura, and the second was for a performance of "Song & Dance 65" by the Shiki Theater Company.
The foundation gave free tickets to 1,700 5th grade elementary school children from 69 schools in northern Miyazaki and their chaperons for "Theater of the Heart," a musical by the Shiki Theater Company.
The children enjoyed themselves singing together and moving their bodies while listening to a piano recital by Mayumi Matsuura, story-telling by voice actor Tomoaki Ikeda, and the music of Yasuno Kazuki, a euphonium player.
Disaster relief, local disaster prevention, and other activities
Disaster relief
To support the relief effort in areas affected by the flooding from heavy rains in July 2018, we made donations of ¥10 million through Japanese Red Cross Society, ¥10 million to Okayama Prefecture, and ¥10 million to Kurashiki City, for a total of ¥30 million, as well as donations of Saran Wrap™ cling film.
Construction of evacuation towers
In fiscal 2013 we constructed two evacuation towers within our plant grounds in Nobeoka and Hyuga, Miyazaki Prefecture, to enable people to quickly reach a safe height in the event of a tsunami. The evacuation towers are available for use not only by our personnel, but also by nearby community members.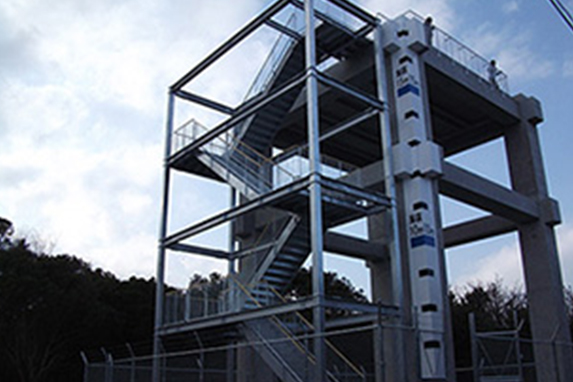 Evacuation tower in Nobeoka, Miyazaki Prefecture
Installation of independent drinking water supply systems
We have installed independent drinking water supply systems at Asahi Kasei Group plant sites in Moriyama, Suzuka, and Nobeoka. The systems utilize our microfiltration membranes to purify deep well water. While serving to supply drinking water to personnel working at these sites on a daily basis, these systems also provide a vital independent backup as a secure source of safe drinking water for local communities in the event of a disaster.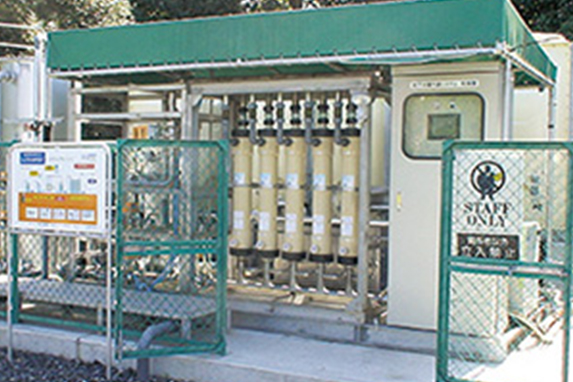 Independent drinking water supply system in Moriyama, Shiga Prefecture
Disaster volunteer organization
In Nobeoka, we have a disaster volunteer organization consisting of our personnel and retirees to perform disaster drills and emergency response support for the local community.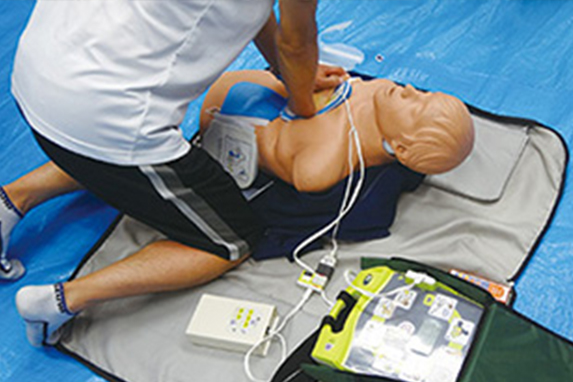 Training to use an automated external defibrillator (AED)
Blood donation
To support "Contributing to life and living around the world," our Group Mission, the Asahi Kasei Group cooperates with the Japanese Red Cross Society to run blood donation drives as an easily accessible community fellowship activity.
We aim to hold the blood donation drive at our Head Office in Tokyo between February and March, when donated blood tends to be in short supply. We hope to gain the cooperation of even more employees to take part in donating blood as an easily accessible community fellowship activity.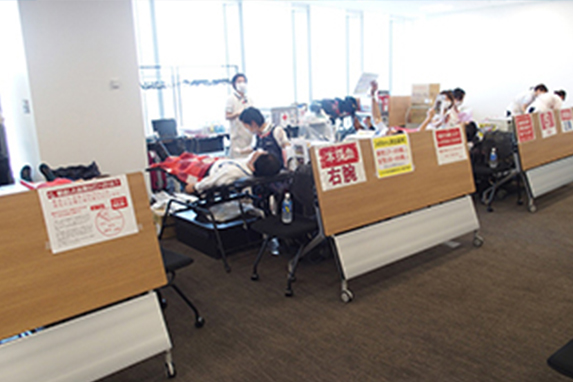 Blood donation at the Tokyo head office
Community Fellowship Around the World
Many offices and production sites of the Asahi Kasei Group in the United States, Europe, China, Korea, Taiwan, and Southeast Asia, engage in a variety of community fellowship activities as suited to their individual circumstances and locations. These include neighborhood clean-up, support for welfare and education, and donation to local organizations and schools. In addition, we proactively advance industrial-academic alliances (with Aachen University of Germany, etc.) where we have strategic business sites in Europe, pursuing mutual prosperity with the local communities of our operations. We also employ many talented personnel at Asahi Kasei Europe which was established in 2016 and our Europe R&D Center which was established in 2017.