Health and Productivity Management and Occupational Health and Safety
Policy
While business is operated globally, the structure of society is changing dramatically. The population continues to age, and the way of hiring people as well as working styles are changing in various ways. In this time of change, it's necessary to ensure a comfortable and safe workplace environment for all employees and enable them to make the most of their capabilities and possibilities.
The Asahi Kasei Group regards all employees as precious assets. In terms of maintaining health and safety at our workplaces and work sites, our RC Principles state: "We give the utmost consideration to environmental protection, quality assurance, operational safety, workplace safety and hygiene, and health management, throughout the product life cycle from R&D to disposal, as preeminent management tasks in all operations." Based on this, in cooperation with employees, we strive for a comfortable workplace environment throughout the company.
Preventive action for occupational accidents
In fiscal 2020, the Asahi Kasei Group established a Life Saving Action (LSA) program to eradicate serious occupational accidents, and we began implementing it throughout the Group. We have established the following four behaviors as prohibited behaviors that could result in loss of life if not observed, and are promoting thorough adherence to these behaviors in all aspects of our business activities.
In addition, our ongoing efforts to prevent workplace accidents is integrated into our comprehensive OHSMS1 program that combines conventional safety and hygiene initiatives2 with risk assessments and a prevention-oriented plan-do-check-act (PDCA) system.
1

Occupational Health and Safety Management System: A standardized management system used to confirm that continuous improvement is being applied to measures to minimize the risks of workplace injuries and to prevent the emergence of future risks

2

Tidiness/orderliness/cleanliness (3S), reporting of near-accidents and potential hazards, hazard prediction analysis, safety patrols, and case studies
Approach to prevent occupational accidents
1. Identification of potential hazards
Effective prevention of workplace accidents requires the identification of all potential hazards in a workplace. In addition to conventional safety and hygiene initiatives, it is important to think of potential issues and consider safety from the perspective of the problems which conceivably arise in a wide variety of situations—as a result of both potentially unsafe physical conditions (hazardous working environment due to equipment, materials, noise, etc.) and potentially unsafe work actions of personnel.
2. Risk assessment
Priority for mitigating the potential workplace hazards identified is assigned based on a scoring system that combines the severity of the impact of problems which could occur and the frequency with which such problems would be likely to occur.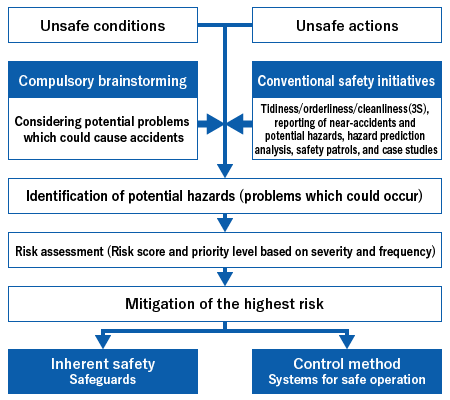 Schematic image for prevention of workplace accidents
3. Mitigation of the highest risks
Measures to achieve inherent safety by eliminating unsafe conditions (by eliminating dangerous procedures, automation, eliminating sources of problems, changeover to safe materials, etc.) and the application of safeguards are extremely effective in the effort to avoid risks. The table on the right illustrates the principles (excerpted from reference documents). We focus on achieving inherent safety and applying safeguards (isolation and stoppage) to avoid risks associated with the use of machinery and equipment to prevent the "caught in/between machinery" category of accident, which can easily result in particularly severe injury.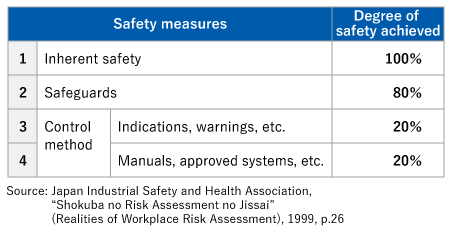 Formulation of safety measures
Inherent safety and safeguards
Measures to achieve inherent safety and the application of safeguards to avoid risks are generally considered to provide the greatest level of safety, as shown in the following table. We incorporate such measures in the construction of new or replacement facilities, upon safety reviews of existing facilities, and to prevent the recurrence of accidents.
Systems for safe operation
Our group is striving to ensure safety in our activities to comply with safe operating standards*. Specifically, we are devising and implementing measures such as checking the status of compliance with safe operating standards in our daily operations. Operations for which the elimination of risk through equipment modification is impractical are classified as operations requiring special control and strictly managed as such.
*

Rather than individual rules for specific procedures, safe operating standards are a system of safety principles which define common safety practices that apply to categories of operation based on similarity of risk. For example, to prevent entanglement in machinery, our standard stipulates not to touch any exposed moving parts.
Sharing and utilizing information of occupational accidents
We investigate causes and take measures to prevent recurrence at sites where workplace accidents occur. We share a database of information on all workplace accidents within the Asahi Kasei Group for utilization in activities such as safety training, case study discussions, and prevention of similar accidents.
Occupational accident statistics
Unfortunately, in fiscal 2020, a fatal accident occurred at one of our subcontractors due to a fire and explosion accident while equipment was being dismantled. We are currently making company-wide efforts to prevent such an accident from recurring.
Also, in fiscal 2020, 12 accidents resulting in lost-time injuries occurred among Group employees in Japan (no fatal accidents have occurred since fiscal 2012). When classifying the accidents that occurred by type, we see that the percentage of "fall from height" has been rising in recent years. In combination with the aforementioned LSA, we will not only work to prevent falls from height, which tend to lead to serious injuries, but also other types of industrial accidents.
1

Number of accidental deaths and injuries resulting in the loss of one or more workdays, per million man-hours worked.
Our goal of 0.1 or less is extremely ambitious. At a plant with 100 workers, it would mean only one worker in 50 years suffered from a workplace injury which resulted in a day off.

2

Lost workdays, severity-weighted, per thousand man-hours worked.
Maintaining and improving comfortable workplaces
Workplaces where potential health hazards are present are subject to regular monitoring under the Working Environment Measurement Law. Additionally, we will manage risks for chemicals to identify and reduce risks resulting from chemical substances.
Noise and heat exposure data are recorded and maintained for all relevant personnel to enable each individual's exposure to be managed and minimized. We are advancing plant modification and reviewing work procedures to reduce exposure to noise and heat.
Asahi Kasei Pharma, Pharmaceutical Sales Division, MR Traffic Safety Activities
1. Introduction
Under the slogan "As many answers as there are lives," Asahi Kasei Pharma conducts its business activities with the entire company working together to accomplish the mission "to sincerely care for each individual life and solve their unmet medical needs with a wealth of ideas and solid science."
Asahi Kasei Pharma promotes traffic safety activities for its Medical Representatives (MRs) in the Pharmaceutical Sales Division, achieving steady improvment.
2. Efforts to prevent traffic accidents
Asahi Kasei Pharma currently has approximately 660 MRs. Their main job is to visit doctors, pharmacists, and other medical professionals at hospitals and clinics to provide and collect information. They see the perspectives of both doctors and patients and make a significant contribution to society as partners playing a role in the healthcare system.
There are 61 branches, sales offices, and sub-branches throughout Japan. Since MRs visit medical institutions in company-owned vehicles, traffic accidents are a major safety issue. Due to the high number of traffic accidents (including accidents involving minor property damage in parking lots), we have been working on traffic safety activities as a top priority since fiscal 2018.
We are using 3M (Man, Machine, Management) analysis to assess the causes of past accidents and link them to countermeasures.
 ・Man: Improving training for newly graduated MRs who have a high accident rate
 ・Machine: Installation of back-up cameras and brake assistance systems
 ・Management: Analysis of accident causes using drive recorders, Zero Traffic Violation project
These activities also aim to build a culture of workplace safety in which each individual can seriously think about and implement what they should do to prevent traffic accidents and violations from occurring.
Initially, these activities began from a strong desire by top management to eradicate traffic accidents. However, through a series of honest discussions, each MR's sense of ownership increased, and a culture of safety was built in which MRs say "stay safe" when they go out. As a result, the number of traffic accidents in fiscal 2020 was reduced to 36% of the number in fiscal 2015, which is a significant achievement.
3. Efforts to improve driving skills
The accident rate is high among newly graduated MRs due to their lack of driving experience, so we have taken various measures to improve them. We provide traffic safety education for newly graduated MRs, including safe driving training and driving skill improvement training before we assign them to a department. After their assignment, we provide training tailored to specific region characteristics, as well as training in which they are accompanied by the department head.
We believe that one particular cause of accidents is a lack of skill driving on narrow roads and when parking, so we cooperate with driving schools and put special emphasis on training for improving driving skills. The key to this training is using the same type of leased vehicle that will be used once employees are actually assigned. We conduct driving skill training sessions with a focus on situations where many accidents have occurred in the past, such as checking blind spots when actually inside a vehicle, driving on narrow roads, and driving in multi-story parking lots. The training is conducted in a safe environment.
This resulted in the accident rate for new graduate MRs in fiscal 2020 falling to one-seventh the number of accidents in fiscal 2016.
4. Aiming for Zero Traffic Violations
We believe that traffic violations are one reason for traffic accidents, so we are promoting the Zero Traffic Violation Project as a major pillar of our traffic safety activities. In particular, we have designated the use of mobile phones, exceeding the speed limit by more than 30 km/h, and disregarding traffic signals, all of which can lead to serious accidents, as designated traffic violations, and are working earnestly to eliminate these violations.
In fiscal 2020, we achieved zero mobile phone usage violations.
Currently, each MR is taking personal responsibility and working to eliminate violations by analyzing the causes and implementing countermeasures at their workplace.
Dealing with the asbestos issue
We have dealt with the asbestos issue as explained below.
| | |
| --- | --- |
| | Specific Measures |
| Measures for buildings owned by the Asahi Kasei Group, including its plants | Conducted asbestos surveys and systematically removed, contained, or enclosed it in accordance with the Ordinance on Prevention of Health Impairment Due to Asbestos. |
| Replacement of asbestos in plant joint sheets | Asbestos in joint sheets is replaced with non-asbestos materials sequentially when joints are opened for inspection or maintenance. |
| Responding to health issues of Asahi Kasei Group retirees | The Group does not engage in the production or handling of asbestos as specified in the Ordinance on Prevention of Health Impairment Due to Asbestos. However, if a retiree who had handled asbestos on a temporary basis during his or her tenure with the Group (for maintenance purposes for example) requests it, he or she can receive a medical examination and a follow-up will be conducted. |
Policy and Promotion System
The employee health landscape has altered dramatically in recent years with an ageing workforce and increased stress from changes in the business and social environment. At the same time, for the Asahi Kasei Group to provide value to society through its business, we need employees to be more productive and creative than ever.
In response, we have decided to develop health and productivity management*, which positions health-related initiatives as a company-wide management issue, and expand on the health management of past Responsible Care activities.
Specifically, we established Corporate Health and Productivity Management in January 2020, appointed Executive Officers with responsibility and deputy responsibility for health and productivity management in April 2020, and issued a Statement on Management for Health in October 2020. In terms of continuously raising corporate value, it is becoming increasingly important for companies to provide an environment in which employees can maintain their physical and mental health as they play an active role. We will work to further promote health and productivity management based on the Group Health and Productivity Management Vision described in the Statement.
In April 2021, the health management centers that our occupational health staff at our major domestic sites belong to were placed under the umbrella of Corporate Health and Productivity Management. The system was changed to enable standardization and overall optimization of health-related operations, strengthen cooperation among sites, and enable a prompt response to issues shared within the Group.
* In Japanese "Kenkokeiei" is a registered trademark of Nonprofit Organaization Kenkokeiei.
Statement on Management for Health
The Asahi Kasei Group pursues sustainable growth of corporate value while contributing to the achievement of a sustainable society by leveraging its strengths of diversity and the capability to change. We believe that human resources are the key to achieving this goal.
In the future, it will become ever more important for the company to create an environment where employees can both physically and mentally healthy and where everyone can play an active role. We hereby declare that we will work to promote health and productivity management, which further refines the initiatives for promoting and maintaining health we have developed to date, under our Group Health and Productivity Management Vision.
October 2020, Hideki Kobori, President & Representative Director, Asahi Kasei Corporation
The Asahi Kasei Group Health and Productivity Management Vision
The Asahi Kasei Group will contribute to the achievement of a sustainable society by encouraging the active participation and growth of each individual and the improvement and development of Group productivity. To this end, the company will ensure that its employees and their families are both physically and mentally healthy, and strive to enhance their job and life satisfaction.
Achieving health and productivity management
In recent years, the Asahi Kasei Group has seen an increase in medical expenses and labor losses due to factors such as a trend toward more employees taking days off. Insurance costs for the Asahi Kasei Health Insurance Society increased slightly from \7.5 billion in fiscal 2016 to \7.6 billion in fiscal 2020. In addition, the total number of days employees were absent from work due to injury or illness increased by 12% in fiscal 2020 compared to fiscal 2016.
The Group considers the maintenance and promotion of the physical and mental health of its employees and their families to be the foundation of health and productivity management. As such, it is taking measures against mental health issues, cancer, and lifestyle-related diseases, which have caused an increasing number of employees to take days off.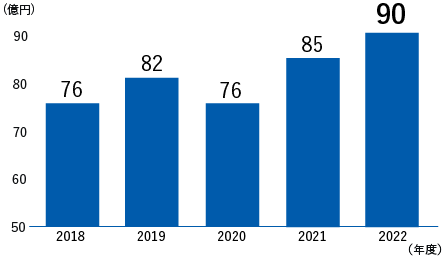 Asahi Kasei Health Insurance Society insurance costs
Furthermore, by promoting measures and activities to achieve the objectives of health and productivity management, which are to encourage the active participation and growth of each individual, improve job and life satisfaction, and create a strong and vibrant organizational culture, we will improve and develop the Group's productivity. We will also strive to achieve sustainability (contributing to a sustainable society and the sustainable growth of corporate value), which is the goal of our medium-term management plan Cs+ for Tomorrow 2021.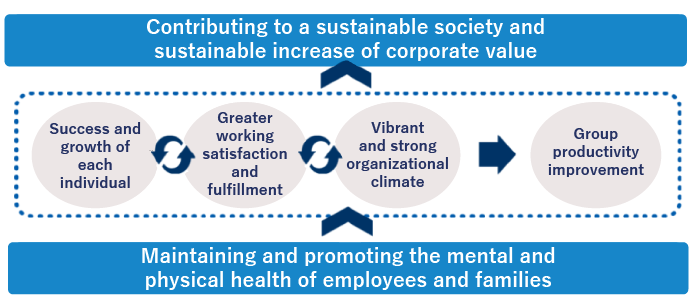 Overview of health and productivity management
Health & Producitivity Management Objectives
To achieve our health and productivity management objectives, we believe it is important both to create opportunities for employees to be active and grow, and to revitalize individuals and organizations.
To create opportunities for employees to be active and grow, we will reduce the number of days employees take off work. We also believe that reducing the number of days employees take off work is not enough to promote health and productivity management, so we will work to make individuals and their workplaces more active.
From the perspective of improving productivity, we will also strive to help employees get more and better-quality sleep, a lack of which is said to be a major contributing factor behind "presenteeism1."
For this reason, the Group has set its primary health and productivity management goals as follows: (1) creation of opportunities for employees to play an active role and grow, etc. (improving the absence rate through countermeasures for mental health issues, people with serious lifestyle-related diseases, people with metabolic syndrome, cancer, and smoking), (2) revitalizing individuals and organizations (improving work engagement2), and (3) improving the quality and quantity of sleep.
1A state in which employees go to work but are unable to perform due to physical and mental health issues. In a study conducted by the Ministry of Economy, Trade and Industry (METI) that used the WHO-HPQ to measure employee productivity, it was reported that presenteeism accounts for 60-80% of total health-related costs.
2A positive and fulfilling psychological mindset toward one's work that consists of three components: enthusiasm, immersion, and vitality.
(1) Creating opportunities for employees to play an active role and grow, etc. (improving the absence rate)
FY2019
Results
FY2020
Results
FY2021
Target
FY2024
Target
Percentage of employees absent from work due to mental health issues
0.91%
0.98%
0.85%
0.64%
Percentage of employees seriously ill with lifestyle-related diseases*
11.0%
11.0%
11.0%
7.7%
Percentage of employees suffering from metabolic syndrome
11.1%
11.4%
11.1%
7.8%
Number of days off per cancer case
79.2 days
68.1 days
76.0 days
67.3 days
Smoking rate
25.8%
24.7%
23.1%
15.5%
* Selected based on in-house criteria
(2) Revitalizing individuals and organizations (improving work engagement)
Each July, the Group conducts a mental health checkup using the simple mental health support system "Organizational Stress Assessment e-Diagnosis" (Fujitsu Software Technologies Limited). This initiative is aimed at primary prevention and encourages employees to become aware of their own stress levels and reduce the risk of mental health issues. Moreover, the results of the e-diagnosis are analyzed by workplace, allowing us to identify situations that cause stress for each workplace as well as the factors thereof, and thus promote activities to improve the workplace environment. The objective of these efforts is to reduce stress factors originating from the workplace itself.
In fiscal 2020, we introduced KSA (Vitality and Growth Assessment), which enables us to analyze and visualize work engagement (enthusiasm, immersion, and vitality) in workplaces in more detail than the employee awareness survey, which had a broader range of questions. We will use the results of the KSA analysis to have employees engage in dialogue with each other at their workplaces, with the aim of further improving work engagement.
In the future, we will also build a system to utilize the results of the e-Diagnosis and KSA surveys in a comprehensive manner as a support tool to further revitalize individuals and organizations at each workplace.
(3) Improving the quality and quantity of sleep
Presenteeism generally accounts for 60-80% of total health-related costs, and this is said to be several times higher than medical costs. Next to mental health issues, the quality and quantity of sleep is considered to be a major cause of presenteeism, so we will promote countermeasures to address this problem.
Specifically, we will (1) establish a method for evaluating sleep, (2) investigate ways to handle employees who are not getting enough sleep, and (3) promote education and training to improve sleep literacy.
Specific initiatives
Mental health and care
The Asahi Kasei Group is working to reduce the rate of employees missing work due to mental health issues by enhancing its four complimentary approaches to care in accordance with its mental health care guidelines.
(1) Self-care

Many kinds of factors may cause absence from work due to mental health issues, and the cause often cannot be attributed to a single factor, so addressing the issue is not easy. In this situation, as a primary preventive measure, we believe that it is important for employees, no matter what the causes of their absences may be, to identify and recognize the stress they are under, and we must support measures for preventing and reducing stress.
To promote understanding of stress and how to approach mental health, we will implement and improve training on mental health, beginning with new employees and career hires.

(2) Care provided by occupational health staff and others

We use the mental health support system e-Diagnosis, and in addition to individual stress surveys, we also conduct workplace stress analysis using "Health and Vitality Criteria."
Moreover, in the Tokyo and Osaka office areas, we have begun administering the Health Questionnaire for Transfer Employees to check the status of employees who have been transferred to other locations for various reasons and see how they are adapting to life and work in their new environment. This allows us to take early action for employees who show signs of poor health to prevent serious conditions.

(3) Line care

As part of our "Line Care" initiative, we are working to improve the workplace environment in each area by using measures such as the Health and Vitality Criteria (Nobeoka area) and MIRROR* (Fuji area). In fiscal 2020, we held a workshop in the Mizushima area that made comprehensive utilization of e-Diagnosis and KSA in collaboration with the human resources department, occupational health staff, and labor unions.


* MIRROR: A tool for improving the work environment. Learning about and discussing the most desirable workplace.

(4) Care provided by specialized organizations

A provision for shortened working days is available for personnel returning from leave of absence for psychiatric convalescence as well as for any other injury or illness, enabling a gradual recovery of a full work load. At each plant site and office location, we provide care by specialists, including training sessions by external lecturers and referral of counseling services.

(5) Analysis of direct factors and circumstances resulting in leave of absence for mental health

To reduce the number of employees who are absent from work due to mental health issues, we use the "Stress Classification Tool for Absent Employees." To identify the causes of their absences, occupational health staff use interview results to input the contribution ratio of direct factors and background information into the tool, then analyze the trends and characteristics by area and visualize the results in graph form. Results from each site are also aggregated, with company-wide data analyzed according to various aspects such as job category and position, which are then shared throughout the company, and for which countermeasures are created.
Initiatives for employees with severe lifestyle-related diseases and metabolic syndrome
In order to maintain and improve the health of our employees, the Asahi Kasei Group is working to prevent and address lifestyle-related diseases. In addition to running the "Health Up" program that provides specific health guidance, from fiscal 2021 we are expanding the target groups of the program. We are working to help prevent lifestyle-related diseases by getting involved early on with groups that were unreachable until now.
Efforts to Reduce the Smoking Rate
In addition to the Non-smoking Challenge, an optional non-smoking program planned and implemented thus far by the Asahi Kasei Health Insurance Society, we hold non-smoking seminars and other events for smokers at each of our sites. Also, to address the problem of secondhand smoke, we are working to reduce the number of smoking areas, convert them into outside smoking areas, and ban smoking during work hours.
Health and Productivity Management Strategy Map
We approach health and productivity management by first fully grasping the hoped-for results from our investments and measures, and how our initiatives lead to concrete actions that can resolve the issues that we hope to address. We have charted these relationships on a diagram.
Highlights
Establishing an exercise routine using the "&well" walking app
In fiscal 2020, 72 teams of 639 employees in office areas participated in the "&well" Walk Team Competition*, in which they competed to have the highest average number of steps taken. The goal was to establish regular exercise habits and reduce the number of people with serious lifestyle-related diseases and metabolic syndrome. In the competition, 340 teams from 11 companies, including our company, participated, and we came in fourth place in the corporate rankings.
Even in today's telecommuting environment, we confirmed that participants changed their behavior, became more aware of their health, and communicated in a more active manner, and many of them had a positive impression of the program. We therefore decided to officially introduce "&well" in office areas in fiscal 2021. We will roll out the system at other sites as well.
* Planned and operated by Mitsui Fudosan
Occupational health staff visualize the physical and mental state of employees at each workplace as a group and report to the department heads
In the Nobeoka and Fuji districts, which are the main manufacturing bases of the Asahi Kasei Group, the results of health checkups, lifestyle data, and sickness and injury leave data are analyzed by workplace, and the occupational health staff report the results of the group analysis to the head of each workplace. This allows those overseeing each workplace to gain an objective understanding of the physical and mental state of their employees as a group, identify issues, and take measures to improve the situation.