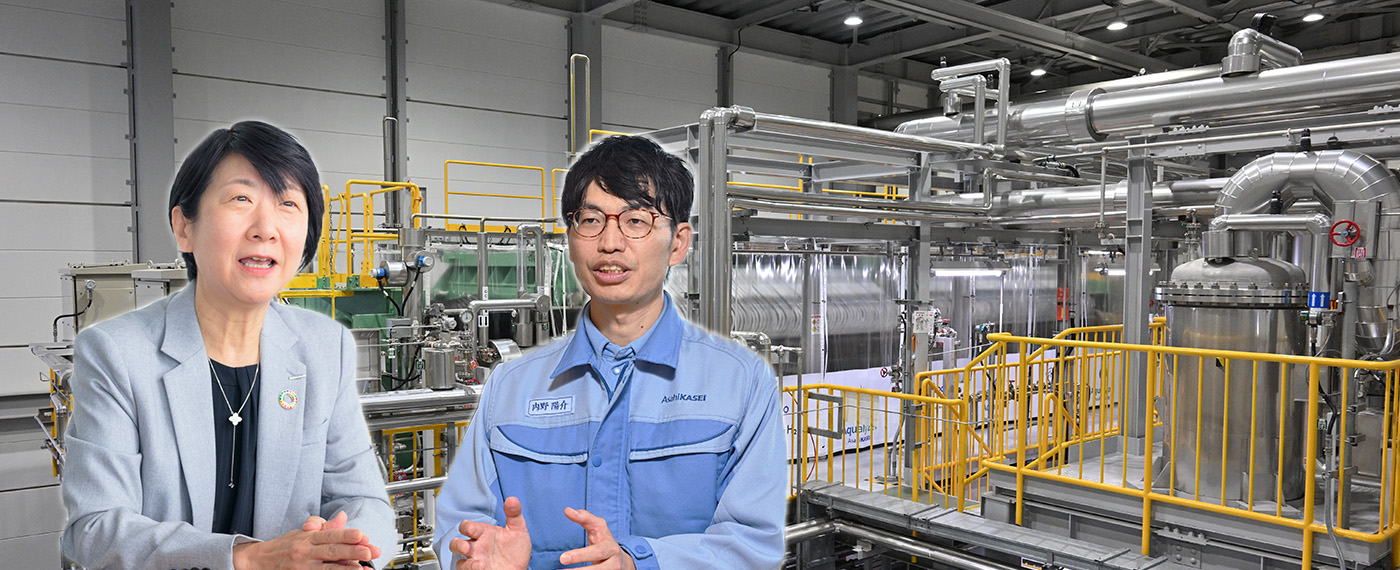 Asahi Kasei's Ideal Hydrogen Society and World-leading Hydrogen Production Technology
October 31, 2023
Hydrogen is drawing attention around the world as a next-generation form of energy for a carbon neutral society. Although hydrogen itself is colorless, it is classified using color codes based on the production method and the associated CO2 emissions. Gray hydrogen is extracted from fossil fuels, such as petroleum, natural gas, and coal, resulting in the emission of CO2. Blue hydrogen is also extracted from fossil fuels but with CO2 capture and storage. In contrast, green hydrogen is produced without CO2 emissions, utilizing renewable energy sources such as solar and wind to provide power for the electrolysis of water. Although green hydrogen is most effective for decarbonization, there are high technical hurdles to its low-cost and efficient production. Around the world, there have been few cases of large-scale facilities being built for the mass production of green hydrogen on a commercial basis. Asahi Kasei has developed a large-scale alkaline water electrolysis system for producing green hydrogen, and is aiming for commercialization. Let's look at the initiatives and passion of the company as it takes on the huge challenge of realizing a hydrogen society with world-leading hydrogen production technology.
Toward a sustainable future through the realization of a hydrogen society
The reason hydrogen is considered to be a next-generation energy source is that it does not emit CO2 when used to generate power. There are high expectations for hydrogen as countries, businesses, and individuals worldwide strive for carbon neutrality by reducing greenhouse gas (GHG) emissions, including CO2 and methane. Hydrogen is a lightweight gas that occupies a large volume of space, which makes it troublesome to store and transport. In order to make it more practical as an energy source, technological research into hydrogen carriers for efficient storage and transportation is advancing. In a hydrogen society, hydrogen produced with minimal CO2 emissions will play a vital role in our daily lives and in various industries in place of major conventional energy sources such as fossil fuels. Although this will require overcoming challenges regarding infrastructure as well as economic and technical issues, it will ultimately lead to a sustainable future.
Green hydrogen production technology with roots in the company's establishment
In 2021, Asahi Kasei launched the Green Solution Project to create new businesses for the realization of a carbon neutral society. Currently, the project focuses on three subjects: CCUS (Carbon capture, utilization, and storage), biochemistry, and hydrogen. Among these subjects, "hydrogen" is attracting particular attention.
Why is Asahi Kasei focusing on hydrogen? Asahi Kasei actually has a long history of working with hydrogen. In 1923 we began producing ammonia in Nobeoka City, Miyazaki Prefecture, Japan. To use as one feedstock for ammonia, we produced hydrogen through electrolysis using power from our own hydroelectric plants. Although this wasn't called green hydrogen at the time, it was actually the same thing being produced with renewable energy. Then in 1975, around half a century later, we commercialized the ion-exchange membrane chlor-alkali electrolysis process. This process electrolyzes sodium chloride solution to produce chlorine and sodium hydroxide. We have supplied our chlor-alkali electrolysis system to approximately 160 plants worldwide, and have maintained a high market share in ion-exchange membranes for many years. Our know-how and track record with chlor-alkali electrolysis is being leveraged in the development of the alkaline water electrolysis system for producing hydrogen.
Our long history of experience with relevant technology is a unique strength of Asahi Kasei in developing electrolyzers for green hydrogen. Governments and companies from various countries have high expectations for us. Green hydrogen is important for us because it allows us to leverage our unique strength to contribute to the realization of a carbon neutral society.
A young chemical engineer's passion and challenges
At COP211 which took place in Paris, France, in 2015, the Paris Agreement was adopted with the aim of reducing GHG emissions and other goals. This led to global attention on green hydrogen, but Asahi Kasei had already started developing the alkaline water electrolyzer for producing green hydrogen in 2010.
Our company already had the core technology of industrial electrolysis that we had cultivated through the chlor-alkali electrolysis business, but the development of the alkaline water electrolyzer was uncharted territory. Yousuke Uchino, who led the development from the beginning as an engineer, reflects on his expectations and concerns at that time.
"I majored in chemistry in university and joined Asahi Kasei, aspiring to leverage my knowledge and contribute to society. After an increase in GHG was identified as a cause of global warming at the IPCC2 in 2007, I became more eager to make a contribution, particularly in the area of climate change mitigation. I expressed my wish to work on the development of the alkaline water electrolyzer. When my participation in the project was decided, I was thrilled at the new challenge. At the same time, I was also concerned because the project was not within my area of expertise, and we lacked the necessary infrastructure."
Before Uchino joined the development of the alkaline water electrolyzer, he spent a few years working in technical sales of electronic components. To proceed with the development, it was necessary to establish and expand the required infrastructure from scratch. Uchino's skills in communication and coordination, cultivated in his previous work, proved invaluable during internal negotiations. He built cooperative relationships among R&D sites in Kawasaki, Nobeoka, Fuji, and Mizushima, consolidating technical expertise, know-how, and infrastructure to accelerate the development. In 2013, only two and a half years into the development, the project team developed a medium-sized demonstration plant, which served as a prototype for the current large-scale alkaline water electrolyzer. In 2015, they were entrusted with a project by NEDO3 and focused their efforts on creating a larger system and accumulating 12,000 hours of operating time on a large-scale demonstration plant of 100 kW. They also had a demonstration plant adopted in the h2herten4 project in Herten, North Rhine-Westphalia, Germany. These achievements were evaluated by NEDO, and Asahi Kasei's Aqualyzer™ alkaline water electrolysis system was selected for a new NEDO project5 at the Fukushima Hydrogen Energy Research Field (FH2R), constructed in Namie Town, Fukushima Prefecture. This involved designing and developing a 10 MW-class6 alkaline water electrolyzer, one of the world's largest. Following construction and test operation, the system began full-scale operation in 2020.
1The 21st Session of the Conference of the Parties to the United Nations Framework Convention on Climate Change
2Intergovernmental Panel on Climate Change
3New Energy and Industrial Technology Development Organization
4A "hydrogen city" established for the development of hydrogen-related technology
5Hydrogen social construction technical development project/Hydrogen energy system technical development/Technical development concerning business model construction and the large-scale actual proof of a re-energy use hydrogen system
6Power consumption at maximum hydrogen output of 2,000 Nm3/hour
Namie Town, pioneering the way to a hydrogen society as a leader in green hydrogen production
Going around Namie Town, you can sense the dawn of a hydrogen society. In this town, hydrogen was introduced as an energy source at various locations, such as mobile hydrogen stations and a pure hydrogen fuel cell system implemented at the rest stop. Along the coast, you can see the FH2R with its eye-catching solar panels.
In this NEDO project, the purpose of operating FH2R is to demonstrate a hydrogen energy system utilizing 20 MW of electricity generated from renewable sources. Asahi Kasei was selected to demonstrate the electricity conversion efficiency, long-term reliability, and responsiveness to renewable energy fluctuations and grid demand of a 10 MW-class alkaline water electrolyzer for hydrogen production.
The highest technical hurdle in hydrogen production using an alkaline water electrolyzer is responding to fluctuations in electricity generated from renewable sources. Conventional alkaline water electrolyzers had problems such as slow response to electricity fluctuations, limited flexibility in start-stop cycles, and a narrow range of manageable power variations, so it was considered to be a difficult challenge to use such a system with fluctuating renewable energy sources. The main reasons for these problems were believed to be the deterioration of electrical efficiency that generally occurs with repeated starts and stops, and damage to structural components resulting from changes in the internal fluid conditions as a result of electricity fluctuations. Therefore, Asahi Kasei developed fundamental technologies for responding to fluctuations, such as robust components capable of withstanding repeated starts and stops, protective circuitry to mitigate component degradation, and technology for stabilizing the internal fluid. By leveraging these technologies, we succeeded in developing a large-scale alkaline water electrolyzer that can produce green hydrogen over the long term, thereby meeting the expectations of the NEDO project.
In this way, the three-year demonstration operation at FH2R finished successfully, and the AqualyzerTM alkaline water electrolyzer took a big step toward the realization of a hydrogen society.
"The 10 MW-class alkaline water electrolyzer, which was nearly two orders of magnitude larger than previous demonstration plants, presented an extreme challenge. As one of the engineers involved in the analysis of equipment and components, I wanted to perform inspection and evaluation more frequently since I anticipated the need for some debugging in order to achieve stable operations. However, the NEDO project at FH2R involved many stakeholders, and hydrogen production couldn't be easily suspended, partly due to high demand periods for hydrogen. The demonstration period was also limited, and we needed to conduct maintenance within short timeframes. After going through a trial-and-error process to overcome these restrictions, we utilized digital twin technology and big data analysis to improve technical capabilities for preventive maintenance. As a result, we were able to forecast potential problems in advance, and achieved stable operation."
In technology management, transitioning from research to product development is sometimes referred to as crossing a "Devil River," and moving from product development to commercialization is navigating a "Valley of Death." Looking back, Uchino describes the demonstration at FH2R as a "Valley of Death" full of many obstacles, where failure could potentially close off the path to commercialization.
Asahi Kasei technology leading the hydrogen supply chain
Following the demonstration at FH2R, Asahi Kasei is currently accelerating its efforts to commercialize the large-scale alkaline water electrolyzer for producing green hydrogen by 2025. Drawing on the expertise and know-how gained at FH2R, Asahi Kasei is actively working on improving electrolysis performance and reducing costs of the water electrolysis system. In addition to the system, the company is developing a total solution package that includes remote monitoring for operating management and preventive maintenance, data-driven management services, and maintenance services for long-term support.
The realization of a hydrogen society also necessitates further external collaborations. Nobuko Uetake, Head of the Green Solution Project, says:
"The hydrogen business requires the creation of a new supply chain for production, transportation, and consumption in cooperation with many companies, such as upstream energy providers, midstream hydrogen transportation and storage companies, and downstream hydrogen consumers. Fortunately, we have received many inquiries about our Aqualyzer™ large-scale alkaline water electrolyzer, so we would like to consider the optimal partnering while playing a leading role in building a supply chain. Our future goal is to become a leading supplier of water electrolysis systems, making it a new pillar of business by 2030."
Energy is essential for humankind. It influences various aspects of our society, including mobility (trucks, buses, railways, ships, and aircraft), industry (including chemicals, mining, and construction), and our daily lives. In a hydrogen society, hydrogen will replace traditional energy sources. But the future is unpredictable, as there are numerous issues to address and hurdles to overcome. It is inspiring to learn of the enthusiasm of members involved as they describe their roles and future prospects. The goal of transforming the world with our green hydrogen production technology to create a sustainable society, along with the sense of steady progress toward that future, serve as the driving force that motivates everyone involved in the hydrogen business.
Related information
Other stories